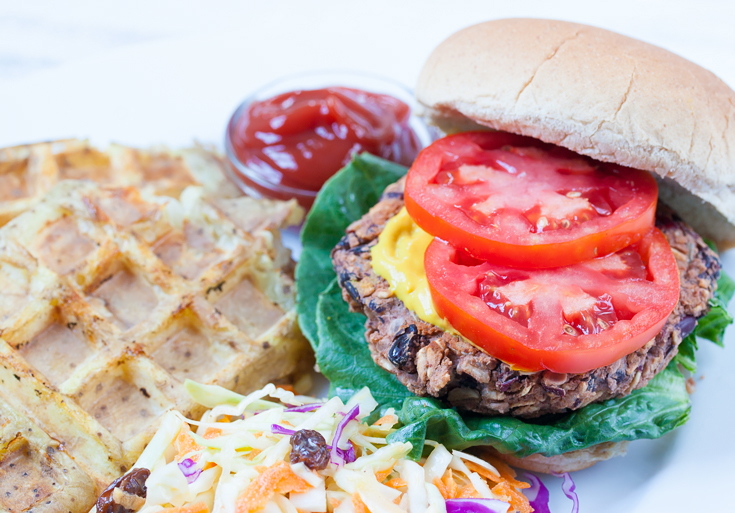 As seen on Good Morning Washington! Click here to see me demo a day of affordable, tasty food—live on air!
Do you want to feed your family healthy, tasty food—on a budget? How about 5-to-9 servings of fruits and veggies a day without taking out a loan?
You're in the right place! Inspired by the SNAP challenge, today you'll get a meal plan packed with budget-friendly recipes and money-saving hacks. So you can eat Cadillac meals on a Hyundai budget. 🙂
What's the SNAP Challenge?
SNAP is the Supplemental Nutrition Assistance Program ("food stamps"), a US government assistance program to help low-income people buy food. But the budget is tight: The average per-person benefit for a family of two is just $4.15 a day. For many, this tiny sum must cover all food expenses.
Yikes.
So the SNAP Challenge, while not anything "official," is simply to eat for a week spending only $4.15 a day on food. If you receive SNAP benefits, you already know the struggle! If not, a SNAP challenge is taste of the trials others face and a great way to learn how to stretch your food budget. I did a 1-week SNAP challenge last spring, where I spent $3.80 a day on food. And boy, was it an eye-opener! Luckily I learned some tips and tricks for putting my food budget on a diet that I want to share with you. (Tip #1: Shop at Aldi!)
Ready to save some money?
$3.91 Meal plan with hacks and superfoods
Whether you want to try a SNAP challenge or just get more for your money, here's a meal plan that features:
7 Fruits and veggies a day
3 Fast and yummy meals plus a snack
4 Superfoods under $0.15
2 Budget cooking hacks
Note: Prices are from Aldi, March 2017 or October 2017, unless otherwise noted.

Breakfast: Banana bread oatmeal with fresh apple slices: $0.73
Gooey and delicious, banana bread oatmeal has the rich flavor of banana bread with none of the guilt! It gets a hit of healthy omega-3 fats from flax seed, creaminess from banana, and sweetness from a hint of brown sugar. It's also weekday-morning fast: ready in 5 minutes. Get the recipe for $0.39 banana bread oatmeal.
Superfood on a shoestring: Oats ($0.08 per serving). Oats are rich in soluble fiber, which soaks up excess cholesterol like a sponge and whisks it out of your body.
Are you eating my top 10 super-cheap superfoods? See how your diet stacks up!
Lunch: Veggie chili with brown rice and garden salad with balsamic vinaigrette: $1.43
It's amazing how one little ingredient can take a dish from good to great. In this case, it's a touch of peanut butter. Just 2 tablespoons in the whole recipe makes the onions taste sweeter, the tomatoes more savory, and the beans heartier. It all adds up to make a fantastically flavorful chili! A scoop of nutty brown rice and a salad with 3 cups of tender baby greens tossed with balsamic vinaigrette rounds out the meal. Get the recipe for Chili on the Cheap, just $0.52 a bowl.
Superfood on a shoestring: Tomato paste: Also just $0.08 per serving (2 tablespoons), lycopene-rich tomatoes—concentrated in tomato paste—may lower breast and prostate cancer risk and boost bone health.1-3
Snack: Peanuts and popcorn: $0.25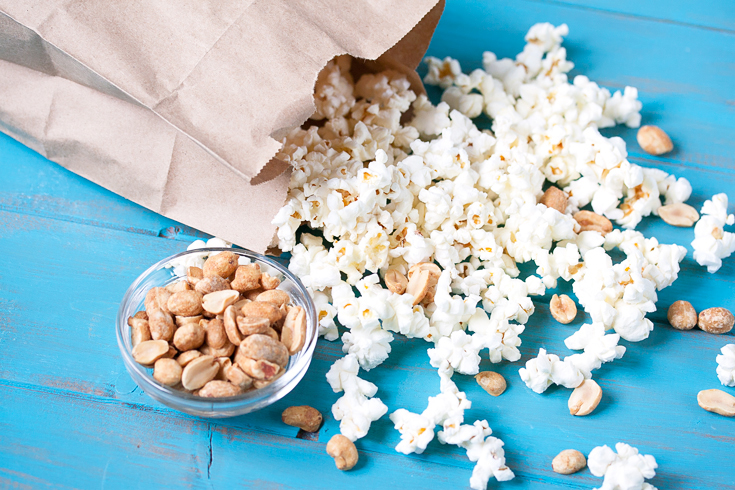 Take a hint from Cracker Jacks and snack on peanuts and popcorn! This classic duo is filling, tasty, and soothes crunchy-food cravings.
Superfood on a shoestring: Dry-roasted peanuts. At only $0.12 per 1-ounce serving, they're rich in plant-based protein and brain-protecting vitamin E. But did you know that by weight, peanuts have as many antioxidants as strawberries and more than carrots?4 Look for peanuts with the skins still on, as the skins are high in antioxidants.
Money-saving cooking hack: Make your own microwave popcorn. All you need is a brown paper lunch bag, which you can reuse. Learn how to make popcorn in a brown paper bag in the microwave.
Dinner: Veggie burgers with easy homemade waffle fries and confetti slaw: $1.06
Everyone loves a burger and fries! Only this veggie burger with homemade waffle fries not only taste good, they're good for you, too. Calling the colorful slaw on the side "confetti slaw" makes mealtimes more fun for kids of all ages. Recipes for the burger and slaw will be posted in the coming weeks: Stay tuned!
Superfood on a shoestring: Beans, like pinto or black beans. Just $0.06 per half-cup serving! Fun fact: Beans help control blood sugar and make you feel fuller the day after you eat them. This like happens because the fiber in beans feeds your good bacteria, which trigger your body to make fewer hunger hormones.
Money-saving cooking hack: Skip the restaurant and make healthy fries in the waffle maker! Potatoes often get a bad rap because they're usually boiled in oil to make french fries. However, potatoes themselves are crazy cheap and powered up with nutrients like vitamin B6, potassium, and fiber. Get directions for how to make waffle fries in the waffle maker here.
Dessert: Banana almond milk hot chocolate: $0.44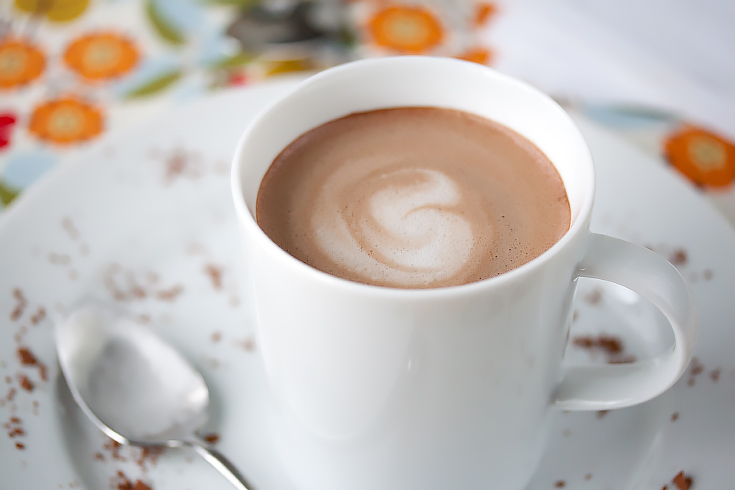 If you hadn't guessed by now, I'm kind of obsessed with 42-calorie almond milk hot chocolate. I drink it every day for a chocolate fix! I have a pumpkin version you'll love for fall, and now I've created yet another variation, which might be my favorite yet: banana almond milk hot chocolate!
To make it, simply double the original recipe, throw in half a banana, and blend. Heat and bada-boom! A tasty dessert that clocks in at $0.44.
So there you have it: A day of healthy eats that cost less than a latté!
Stats for the day:
$3.66 total cost
7 fruits and veggies: Banana (1), apple (1), salad (1), chili (2), slaw (1), waffled potatoes (1)
100% delicious

😎
Click here for even more ways to slash your food budget while eating like a queen!
Click here for references.
You're up!
Are you interested in trying a SNAP challenge?
What money-saving tip can you share?