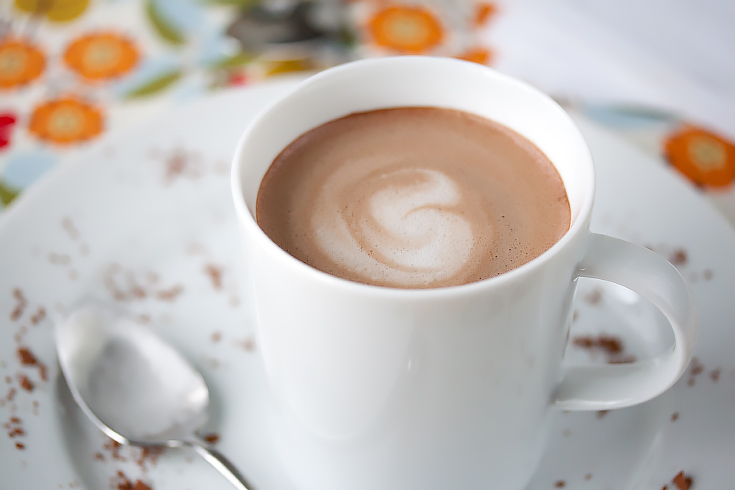 Having a stressful day? Here's a tasty treat that'll give you a big boost for just 42 little calories.
Of course, it involves chocolate. (Was there any question?)
Specifically, chocolate in the form of creamy, rich, satisfying almond milk hot cocoa. With an optional kick of coffee if you need a turbocharge.
I love this hot chocolate so much that I drink it every day. And sometimes twice a day, now that I'm knee deep in the dietetic internship application process.
What's more, I can't tell you how many times making a cup of this has kept me from going straight off the nutrition rails. You baked-goods addicts know what I'm talking about—one minute you're feeling stressed or sad, and the next minute you're at the bakery, buying a donut, with no recollection of how you got there.
(Okay, maybe you remember how you got there, but you get my point.)
Anyway, this hot chocolate is extremely good at preventing that. Just make a cup when cravings strike and watch them melt away as you bliss out. It's right up there with my healthy chocolate frosting (you'll never guess the secret ingredient) for being a great low-cal way to satisfy chocolate cravings.
In fact, I've actually been trying to figure out why I haven't posted this hot cocoa before. Maybe because it's so easy it doesn't feel like a recipe? I mean, it only has 4 ingredients and takes all of 3 minutes to make. Which is exactly why I should have posted it sooner. Whoops.
So without further ado, here it is: mood-soothing, energy-boosting hot chocolate that'll keep you out of the bakery—and in your favorite jeans.

42-Calorie Almond Milk Hot Chocolate
Prep time:
Cook time:
Total time:
With just 4 ingredients, this quick dairy-free hot cocoa is the healthy way to get your chocolate fix. A pinch of instant coffee deepens the cocoa flavor, while almond milk makes it creamy. It only tastes decadent!
Ingredients
1 Tbsp cocoa powder
3-4 packets Truvia, or other sweetener to taste
pinch of instant coffee (optional)
¼ tsp vanilla extract
1 cup unsweetened almond milk (I used unsweetened vanilla Almond Breeze)
Directions
Fork method
In the bottom of your mug, use a fork to whisk together the first 4 ingredients plus 1 Tbsp of the almond milk for 20-30 seconds. It takes a little effort to get the almond milk to incorporate, but you'll end up with a smooth paste.
Add ¼ of the remaining almond milk and mix again until smooth. (Should look like chocolate syrup.)
Add the rest of the almond milk and stir until smooth, being sure to scrape the sides.
Microwave for 1-1½ minutes. Give it a final stir and enjoy!
Blender method
Whiz all ingredients in a blender, transfer to a mug, and microwave 1-1½ minutes until hot.
Notes
-A heaping teaspoon of So Delicious CocoWhip Light swirled on top dresses up this hot cocoa for just 10 more calories.
Nutrition Information
Serving size:
1 cup
Calories:
42
Fat:
3g
Saturated fat:
0g
Carbohydrates:
16g
Sugar:
0
Sodium:
150mg
Fiber:
3g
Protein:
1g
Cholesterol:
0mg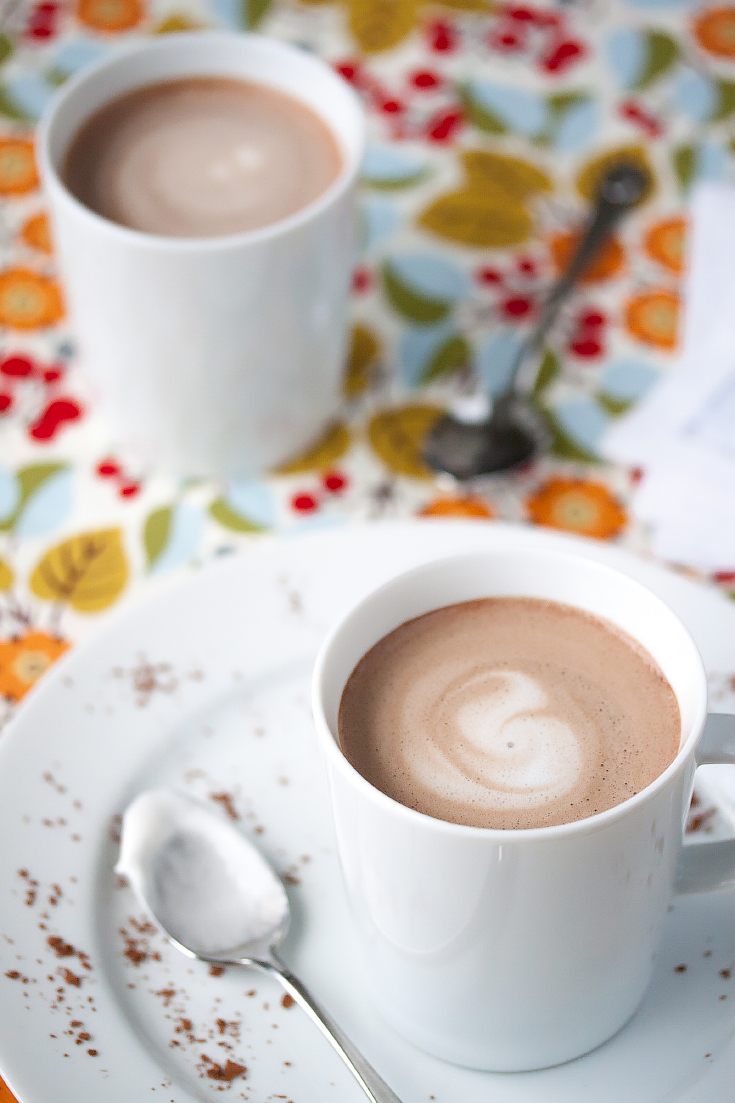 More Low-Cal Treats!
Shared on the Lou Lou Girls Fabulous Party, Tasty Tuesday, Allergy Free Wednesday, Bloggers' Spotlight Party, Plant-Based Potluck Party, Gluten Free Fridays, Real Food Fridays, and Healthy Vegan Fridays.
Your turn:
In your fantasy world, what dessert would have no calories at all?
What's your favorite low-cal dessert?
Have you ever healthi-fied a downright deadly recipe? What was it?