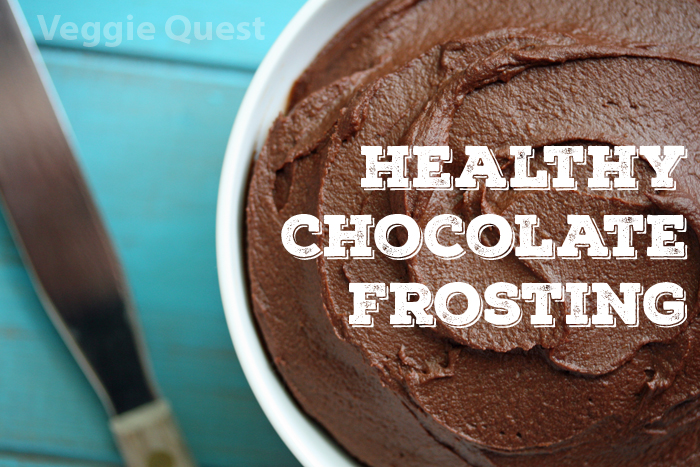 You need chocolate frosting.
You also need to eat your vegetables!
Luckily, this chocolate frosting, which also happens to be low-fat, vegan, and soy-free, has you covered on both fronts.
The very veggie secret? Vitamin-A rich, fiber-fabulous sweet potatoes! While these tasty tubers may sound like a strange base for frosting, when whipped, they have all the right stuff: a smooth, creamy texture; the ability to hold their shape for decorating; and a mellow flavor that melds beautifully with cocoa and vanilla.
The result is surprisingly delicious; I only wish I could take credit for the idea! Instead, I was inspired by the chocolate sweet potato frosting at Sandi's Allergy Free Recipes, which I've been meaning to try for about a year now. A chocolate craving and a little tinkering later—especially a touch of coffee to deepen the cocoa flavor—and the Veggie Quest version of this tasty treat was born.
Frosting that loves you back
Of course, as yummy as this frosting is, it's not exactly grandma's buttercream. That said, unlike grammy's buttercream, you won't need to Roto-Rooter your arteries when you're done! 😉 In fact, in 2½ tablespoons, you'll get 115% of your vitamin A, 2 grams of fiber, and a nice boost of magnesium. You can also make a refined-sugar-free version with dates if you're extra motivated (see the note in the recipe below).
Needless to say, I can't wait to try this frosting on a host of healthier baked goods, like a gluten-free version of Dr. Fuhrman's never-get-sick chocolate cake that I plan to make for my birthday in June.
Although the first thing I'm going to try it on is a spoon.
Tomorrow morning.
For breakfast. (Hey, no one's perfect!)
So, are you game for sweet potato frosting? Or do you have another healthier frosting favorite? Either way, leave me a note in the comments—as always, I love hearing from you!
Low-fat chocolate frosting (soy-free, vegan)
Makes about 3 cups of frosting (enough for 18 cupcakes).
Ingredients
2 c cooked orange sweet potato (from 2 sweet potatoes, each about 6-7 in, baked or microwaved)
½ c cocoa powder (Dutch-process if possible; see notes)
½ c agave nectar (or use dates; see notes)
2 Tbsp almond butter
2 tsp vanilla extract
1 tsp imitation butter flavor (optional)
½ tsp instant espresso powder or instant coffee (I used Starbucks Via)
½ tsp salt
almond milk (if needed to thin - see Notes)
Directions
Combine all ingredients in a food processor. Process until smooth, about 1-2 minutes. (Stop to scrape the sides of the food processor as needed.)
Notes
Store in the refrigerator (will stay spreadable). Make up to 3 days in advance.

Dutch-process cocoa powder imparts a darker color and Oreo-like flavor to this icing. However, regular cocoa powder works too.

If you're using older or drier sweet potatoes, add almond milk 1 Tbsp at a time to food processor until you get that "just right" spreadable icing consistency.

To make without refined sweetener, substitute 1 c packed, pitted medjool dates (about 20) plus ¼ c plant-based milk in place of agave. Process dates and milk until mostly smooth, adding another splash of milk if needed, then add the rest of the ingredients and process another 3-5 min, or until smooth. (Take your time to get the icing as smooth as possible.)
Nutrition Information
Serving size:
About 2.5 Tbsp (1/18th recipe)
Calories:
73
Fat:
1
Saturated fat:
0
Carbohydrates:
15
Sugar:
9
Sodium:
75
Fiber:
2
Protein:
1
Cholesterol:
0
Shared on
Bloggers' Spotlight Party
,
Healthy Vegan Fridays
and
Gluten-Free Fridays
.
Want to see this frosting in action? Check it out on Dr. Joel Fuhrman's "never get sick chocolate cake" on my 2 pounds of veggies a day post for June. (Yeah, I had it for breakfast. Don't judge! 😉 )