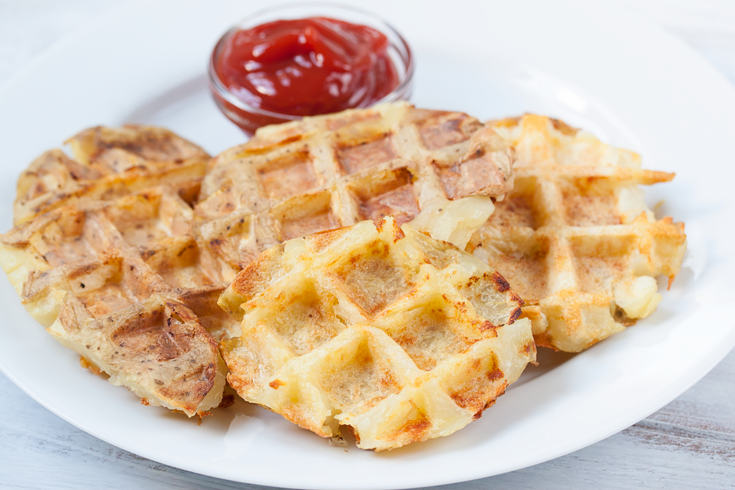 Waffle fries without the guilt? Coming right up!
I first tried this hack when I was doing a week-long challenge to eat for $4 a day. Potatoes are cheap and healthy, so I was eating a lot of them. But my daily potato was turning into a snooze. That is, until I stumbled upon this idea somewhere on the internet: smash leftover potatoes in a waffle iron…behold, waffle fries!
Even better, these waffle fries are more than a tasty sidekick for veggie burgers. Topped with beans, sauteed onions, and barbecue sauce, they're a dish unto themselves.
There are a few pitfalls to watch out for, though, so read through the easy steps below before jumping in.
Happy waffle fry making! 😀

How to Make Waffle Fries in a Waffle Maker
Prep time:
Cook time:
Total time:
Ingredients
4 cooked Yukon gold potatoes (See note)
Cooking spray
Directions
Lightly spray a waffle iron with cooking spray

Slice potatoes in half. Place half a potato in each quadrant of your waffle maker.

Smash potatoes by closing the waffle maker (you may have to apply gentle pressure to get it to close.)

Let waffle maker run for its shortest cycle, since you want to cook potatoes until they're just golden. For our machine, this takes 4-5 minutes.

Carefully remove fries from waffle maker and repeat with remaining 4 potato halves.
(We forgot to take a photo of the finished fries from smaller potatoes, whoops! So here's one of a bigger potato done butterfly-style, just to show you what fries should look like when you open the waffle maker!)
Notes
--Choose potatoes the size of a pool ball/cue ball or a little smaller
--Cook potatoes in the microwave or in an instant pot (do not boil).
To cook potatoes in the microwave:
1. Wash potatoes and stab a few times with a fork
2. Place in a microwave safe dish with a splash of water, cover, and cook 8-10 minutes, turning potatoes once during cooking.
To cook potatoes in the instant pot:
Use a steamer basket filled to the top with potatoes following the directions
here
.
Note: Do
not
try this with sweet potatoes. It doesn't go well!
Pin it for later 🠋