If Jeff and I were to get a grade on eating healthy on a budget, we'd get an F-.
Seriously.
To be fair, we do the healthy eating part fine. But when it comes to savings? Despite the fact that I've written entire posts on saving money at the supermarket, we don't walk the talk. We still shop at Whole Paycheck Foods, buy loads of pre-fab foods like burritos and veggie burgers, and order in dinner at least twice a week.
But, back me up here—following a food budget is hard when you're busy! Between working, commuting 2 hours round-trip for me and 3 hours for Jeff, and evening homework, we're both exhausted when it's time to fix dinner. Sometimes even ordering dinner feels like a chore. The thought of meal planning and cooking on top of everything else? Ain't happening.
Instead, we've been spending on food like drunken sailors, then having a minor heart attack when the credit card bill comes in each month.
Until today, thanks to my dietetic internship.
SNAP challenge: Eating well on $4.13 a day
You see, the Academy of Nutrition and Dietetics wants every future dietitian to have a taste of what it's like to try to buy food on a poverty budget. So in my program, for 1 week we each have to feed ourselves on the amount typically received by those who participate in the Supplemental Nutrition Assistance Program (SNAP).
To receive SNAP benefits, you have to make less than $15,444, or less than $31,596 for a family of four. After rent, utilities, childcare, transportation, and so forth, that means many families are buying food solely with SNAP dollars.
For our assignment, my fellow interns and I—along with Jeff, who agreed to join me on this "adventure," which starts at lunch today—will be living on the average individual SNAP benefit of $28.93 per person, per week.
My first response upon seeing that number? Holy crap! $28.93 is the amount Jeff and I spend on lettuce in a week.
How on earth would we survive on $4 a day?
Clearly, we were going to starve.
Raising the bar: 5-9 servings of fruits & veggies, 20-minute meals
Okay, maybe we wouldn't starve, but on our budget, buying produce and whole plant foods (except maybe beans) seemed out of the question. Yet we weren't about to switch to an all-ramen diet—we'd go into veggie withdrawal. Somehow, we had to work in those veggies and fruits.
So after the initial shock (and a couple of days of freaking out), I decided it was game on, SNAP challenge. Not only would Jeff and I each eat for $4.13 a day, but we'd shoot for the moon: 5-9 servings of fruits and veggies a day and 100% plant based meals. Plus, since I figured we'd be just as busy this week as ever, I decided every meal had to be ready in 20 minutes or less.
Lucky for me, I love challenges like this—once I warm up to the idea, of course. The harder the better! After lots of brainstorming and research, here are the steps I devised for stripping our budget to bare bones while beefing up (beaning up?) our menu. Hopefully it gives you some ideas, too.
How to eat healthy for cheap: 7 steps, 1 meal plan, $4.13/person
Depending on how hard-core you want to be, you'll need anywhere from 30 minutes – 2 hours to work through these steps. The payoff? Saving $50, $100, or more per month on food!
Yes, you can eat #healthy and #plantbased for $4/day! #SNAPchallenge http://bit.ly/2kYi6Sv
Click To Tweet
1. List cheap & healthy foods you like. Ideas:
Dried beans, split peas, lentils
Sweet potatoes
Regular potatoes
Peanuts/peanut butter
Affordable leafy greens (cabbage, romaine & iceberg lettuce, frozen spinach)
Carrots
Bananas
Apples & oranges (in season)
Corn tortillas
Popcorn
Brown rice
Oatmeal
2. Brainstorm easy meals you can make with your fave cheap ingredients.
Think outside the box and use shortcuts. For example:
Peanut butter + cooked oatmeal + sweetener = protein-packed, peanut butter cookie oatmeal
Barbecue sauce + rinsed/drained pintos = baked beans
Canned tomatoes + tomato paste + beans + chili powder/spices = veggie chili, which doubles as a taco filling, salad topper, and potato stuffer
For more ideas, check out Plant Based on a Budget or my $4.13/day meal plan for this week on my beloved What to EAT meal planning pad:
3. Include treats
Whether you have a sweet tooth or love savory snacks, make a little room in the budget for healthy(ish) treats. Because some days, you just need dessert. (I'm talking to you, Mondays!) For Jeff and me, I included either a cup of 42-calorie almond milk hot chocolate or a peanut butter and jelly roll-up every day. You might prefer a few squares of dark chocolate or a few dips of healthy chocolate frosting.
Because chocolate. 🙂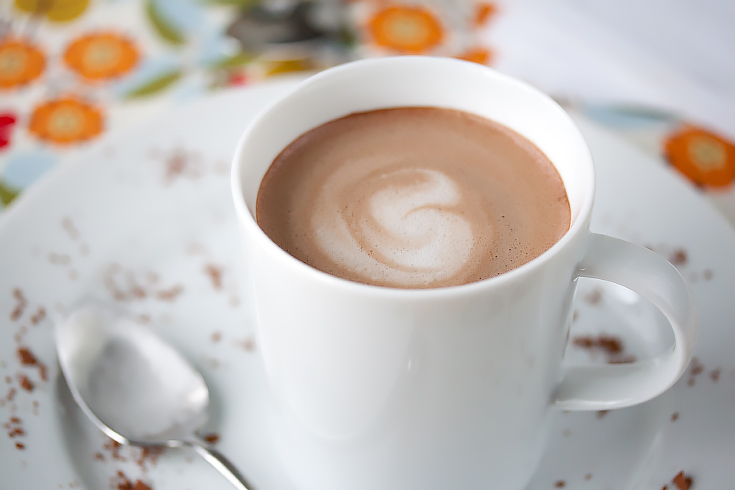 4. Make a shopping list
Based on the meals and treats you've chosen, make a shopping list for the week. If you aren't doing a SNAP challenge, shop your own fridge, freezer, and pantry first. You'd be amazed at the good (and occasionally terrifying) stuff lurking in the back of your own fridge and cabinets.
5. Find target prices online
Once you have your shopping list, find prices online to give you targets to beat. I used an Walmart.com to price staples and my local grocery delivery service to price fresh items/produce. Having goal prices turns budget grocery shopping into a surprisingly fun, money-saving game.
6. Shop a discount supermarket first, then fill in gaps at your "regular" store
Specifically, SHOP AT ALDI.
No, really. Trader Joe's, ethnic grocery stores, and wholesale clubs can have good deals, but Aldi is your best bet. I mean, we bought the huge pile of groceries in the pic up top for under $53. I confess, I got nervous that we might starve and overbought, which means we may actually have enough food for two weeks! Plus we're going to hit our 5-9 servings of fruits & veggies a day without breaking a sweat.
After you've shopped the discount store, fill in with items from your "regular" grocery store, whether that's Wal-Mart or Whole Foods.
7. Put your plan into action
Now comes the fun, if slightly scary part: eat your fun new food! For me, that'll mean a little investment cooking today: baking potatoes and and cooking dried beans in the instant pot. (Total hands-on time: 20 minutes, plus 1-2 hours in the oven for the potatoes.) Then every meal for the rest of the week should take under 20 minutes.
So, how will it go? Great question! 😉 Follow me on Instagram, Twitter, and Facebook to track my progress and let me know what you think.
Wish me (and Jeff) luck as we embark on our journey to eat healthy and plant-based for $4.13 a day!
UPDATE: See how we did in the recap post here! (Spoiler alert: There *may* have been a cheat…)
Your turn:
How do you like to save money on groceries?