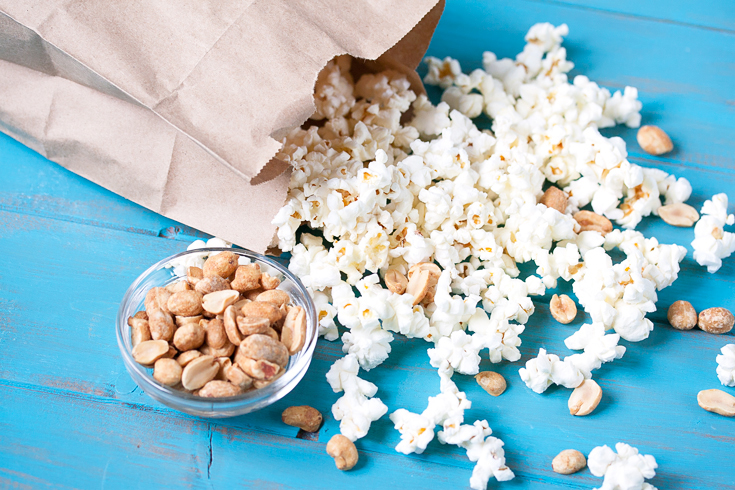 Our "eating healthy on a shoestring" series continues with one of my favorite "cooking" hacks: making popcorn in a brown paper bag in the microwave!
Why make your own brown-bag popcorn?
Cheaper: Homemade popcorn saves you money: It's less than one-third of the price of store-bought.
Safer: A chemical in the lining of some microwave popcorn bags, perfluorooctanoic acid (PFOA), is considered "likely to be carcinogenic" by the Environmental Protection Agency.1 Now, I haven't seen any research proving that the amount of PFOA in popcorn bags causes cancer. But since DIY popcorn is cheap and easy, why risk it?
Healthier: Skip the calories (and inflammation) from butter and oil in favor of a sprinkle of popcorn salt, soy sauce, or my personal favorite, Table Tasty popcorn seasoning. (Sodium free, but tastes surprisingly salty!)
How to make popcorn in the microwave in a paper bag:
1. Put ¼ cup of popcorn kernels in a brown paper lunch bag.
2. Loosely fold down the top. (The bag will expand with cooking.)
3. Microwave for 2 – 2½ minutes, until popping slows to once every 2 seconds.
4. Carefully unroll the top, add seasonings, and enjoy!
Note: Don't walk away from the microwave! Leaving brown-bag popcorn in the microwave too long can burn your popcorn or cause the bag to catch on fire. (!)
Enjoy your popcorn with superfood peanuts for a balanced, healthy snack. (Omit the peanuts if you're watching your fat intake.)
Don't have paper bags? Check out how to make popcorn in the microwave without a bag.
Click here for references.
Environmental Protection Agency. http://www.epa.gov/sites/production/files/2014-04/documents/factsheet_contaminant_pfos_pfoa_march2014.pdf