Need a quick take-along for a Valentine's party or a treat for that special someone? Look no further than these skinny no-bake red velvet cookies!
Not only are they delicious, but as cookies go, they're pretty darned healthy. Not only are they free of added oil, but you can make them with all-fruit jam or date paste to keep added sugar to a minimum. They get their pretty red color from beets (don't worry, you can't taste them), and they clock in under 100 calories per cookie. (Just 91 calories in the regular version and 61 calories and 1 g of fat in the low-fat version.)
I also love that these cookies are actually satisfying. As opposed to regular cookies, where I can easily mow through four (or more, gah!) without blinking, eating one or two of these makes me feel like I've had a treat—minus cravings for more. I'm all for goodies that help me stay on track! (Like my secretly healthy chocolate frosting made with sweet potatoes.)
And that's all important, because on Friday I'm excited to feature a very special plant-based weight loss success story. My guest blogger is none other than my mom, who has lost 85 pounds on a plant-based diet.
In her 60s.
She's finally agreed to share her journey, which—like most things in life—hasn't been a straight line. I think you'll be inspired by her story, so check back Friday!
In the meantime, I hope you enjoy these skinny no-bake red velvet cookies. Because not only are they tasty and healthy, they're surprisingly fun to make. (And eat, who am I kidding.) 😉
#Valentine treats that love you back: Skinny No-Bake Red Velvet Cookies #GlutenFree #Vegan
Click To Tweet
No-Bake Healthy Red Velvet Cookies (Gluten Free, Vegan)
Serves:
20-24 2-inch cookies
These are adorable cookies get their striking color from all-natural beets--but don't worry, you can't taste them at all. (True story: I don't like beets, but I love these cookies.) Adapted from Healthy No Bake Pumpkin Spice Latte Bites from
The Big Man's World
.
Ingredients
1 large fresh beet (You'll use ½ c of resulting puree.) Don't use canned--you won't get the pretty color!
1¾ c gluten-free oat flour (Can grind your own - see Notes)
½ c coconut flour (or another 1 c oat flour, but coconut flour tastes better!)
3 Tbsp sugar or other granulated sweetener (Use erythritol for a calorie-free option.)
¼ tsp salt
¼ c seedless raspberry jam/all-fruit or date paste (Or agave nectar - see Notes)
1 tsp vanilla extract
¼ c almond butter (Optional - see Notes)
powdered sugar or mini vegan chocolate chips (Optional)
Directions
Wash and peel beet. Chop into cubes, place in a microwave-safe bowl with 1 Tbsp water, and cover. Microwave on high for 6-7 mins, until beet is very tender.
While beet is cooking, combine dry ingredients in a mixing bowl. Set aside.
When beet cubes are tender, puree them in a food processor with 2-4 Tbsp water. (Use just enough water to get a puree started, but no more.) Allow food processor to run 2-3 minutes to get a smooth puree, pulsing and scraping sides as needed.
In a small bowl, combine ½ cup ONLY of beet puree, jam or other sticky sweetener, vanilla extract, and almond butter. (You will have leftover beet puree--great in smoothies!)
Pour wet ingredients into dry ingredients and stir. Mix with a spoon, then knead until you get a slightly stiff Play-Doh consistency. Add more coconut flour or a splash of water if needed.
On a sheet of parchment or wax paper, divide dough into quarters. Use a rolling pin or glass to roll each quarter just under ¼" thick. Punch out hearts with a cookie cutter.
Press on a few chocolate chips or sprinkle cookies with powdered sugar, if using. Can be eaten right away, but are best if allowed to firm up in the fridge for at least 1 hour.
Store leftovers in refrigerator.
Notes
-Nutrition information
includes
almond butter and chocolate chips.
-
Low fat version:
Omit almond butter, adding a little water if necessary for workable dough. Top cookies with a sprinkle of powdered sugar instead of chocolate chips. (62 calories and 1g fat per cookie without powdered sugar)
-To make your own oat flour from rolled oats, follow the easy directions
here
. Update: Use a high-powered blender for best results!
-When measuring oat flour, spoon into measuring cup and level with a knife.
-If using agave nectar, reduce granulated sweetener to 2 Tbsp.
Nutrition Information
Serving size:
1 cookie
Calories:
91
Fat:
4
Saturated fat:
1
Carbohydrates:
14
Sugar:
5g
Sodium:
1%
Fiber:
2
Protein:
3
Cholesterol:
0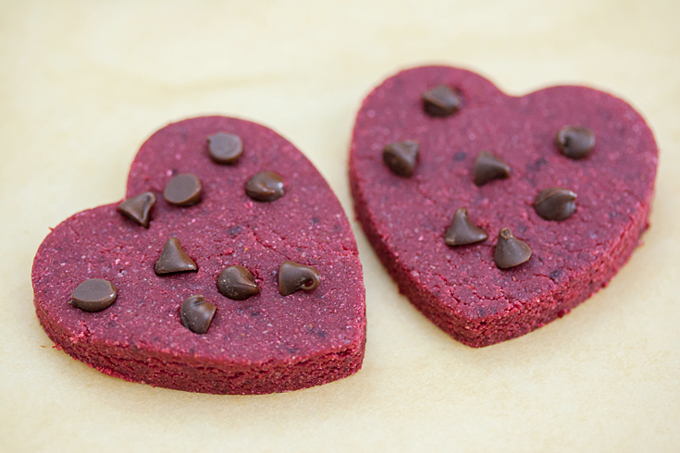 Want more healthy treats?
Subscribe for updates and never miss a recipe!
Shared on Tasty Tuesday, Healthy Living Link Party, Allergy-Free Wednesdays, Bloggers Spotlight Linky Party, Gluten Free Fridays, and Healthy Vegan Fridays.