This Friday, the Veggie Quest team launched the Healthy Carb Challenge. If you want to feel better by ditching white sugar and flour in favor of whole carbs, you're invited to join us! Click here to be added to the Facebook Group. You'll get inspiration, meal and snack ideas, and a shoulder to cry on when the withdrawals hit. 😉
Why are we doing this?
First, let me say—I'm pro carb! Carbs are the body's cleanest-burning fuel. What's more, diets made up of whole, carb-rich foods like vegetables, fruits, whole grains, and beans have been proven to prevent and reverse killers like heart disease and diabetes, and even lower the risk of some cancers.
On the flip side, diets high in saturated fat, meat, and cheese slow us down. They can also lead to heart disease, diabetes, colon cancer, and potentially breast cancer now, too.1
However, while white sugar and white flour are indeed carbs, they've been stripped of nutrients, leaving sad, empty calories. 🙁 However, choosing oatmeal over Oreos floods your body with fiber, vitamins, minerals, and phytochemicals. That gives you sustained energy to power through your day. 😀
Moreover, on a personal note, I have less breast pain, less foot pain (I sprained my big toe last summer, and it still talks to me), and more energy when I stick to healthy carbs.
So to support everyone in the Healthy Carb Challenge—and anyone who just wants some really yummy recipes—I've compiled this mouthwatering list of whole-carb recipes. They'll give you steady steady energy throughout the day with nary a hint of white flour or sugar.
12 Tasty Healthy Carb Recipes
Dessert for breakfast? Count me in! This 100% guilt free carrot cake oatmeal is loaded with healthy carbs: whole grain oats, carrots, and raisins! Sweeten it with chopped dates, stevia, or a dash of maple syrup, depending on what's in your pantry.
Sweet potatoes have always been amazing for lunch and dinner, but with these sweet potato rounds from Ricki Heller, now they're fabulous for breakfast too! Packed with fiber, vitamin A, and healthy carbs, they're the perfect way to start the day. (Especially when drizzled with sweet and nutty almond sauce. If you'd rather not use stevia, sweeten with a date or two instead.)
Roasted butternut squash is a delicious source of slow-burning, energizing carbs. Pair butternut with caramelized red onions, white beans, and lightly sweet cashew dressing in this addictive butternut squash salad. (Or use oil-free lemon tahini dressing for a savory alternative.) You'll be in salad heaven!
Loaded veggie chili is another favorite at my house. Created by Mama Veggie Quest (who lost over 100 pounds eating plant-based), this chili always satisfies, and answers the eternal question: What do I do with this bag of frozen mixed vegetables? 😉
Beans and lentils are the ultimate healthy carbs, packed with plant-based protein, minerals, fiber, and resistant starch to feed your good gut bacteria. And this tu-no salad from Straight Up Food tastes truly phenomenal—much better than tuna salad ever dreamed of tasting! Plus, I love that it uses a sprinkle of kelp, which is rich in iodine, a nutrient vegans can sometimes fall short in.
Jeff and I love our Instant Pot. And we've had a yen for vegetable soup lately, given the frigid weather. Luckily this recipe from Fatfree Vegan Kitchen is tasty and easy: Just throw all the ingredients in the Instant Pot, set it for 2 minutes, and walk away. Bonus: You'll score 11 grams of fiber and 11 grams of plant-powered protein in every bowl.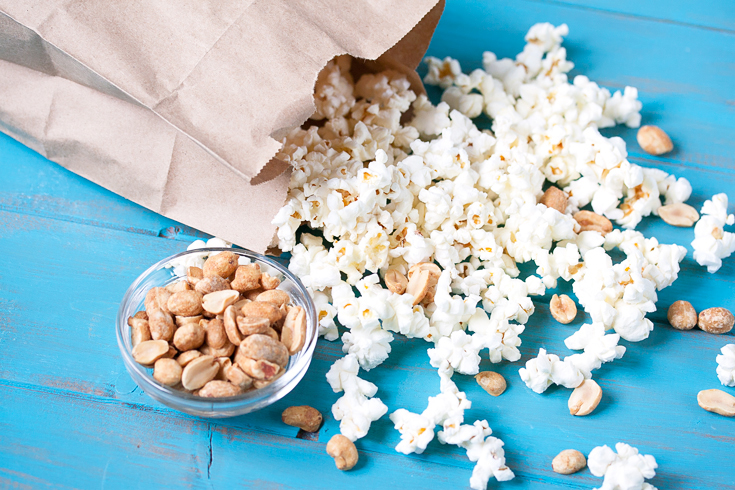 For the ultimate whole-grain, high-energy snack: Chuck ¼ cup of popcorn kernels in a lunch bag, microwave for ~2 minutes, and spritz with Bragg's liquid aminos. (See full instructions here.) Easy and delicious.
Veggies have all the things: vitamins, minerals, phytochemicals, healthy carbs, and protein too! However, they're not just amazing for you: They taste amazing dipped in this oil-free, copycat Hidden Valley Ranch dressing. Sweet + crisp + crunchy + creamy = yum. 🙂
Tired of eating the same old thing? Try something different with these delicious Bombay Potatoes and Peas from Vegan Richa. Savory and flavorful, this dish brims with potassium-rich potatoes and bright green peas in a rich curry sauce. Serve with whole-grain flatbread or a green salad with lentils or chickpeas.
This gluten-free pumpkin gnocchi recipe from Ricki Heller is a must-try. Because…gnocchi! 🙂 I recommend swapping the browned sage "butter" with a bright, fresh marinara sauce instead.
This gorgeous apple crisp from Straight Up Food can help you tackle your craving for sweets the healthy way. Made with rolled oats and sweetened with whole apples and apple juice, this delightful crisp will make your day.
In case you thought ice cream was a thing of the past on the #HealthyCarbChallenge…think again. Made with frozen bananas, jeweltone blueberries, and a kick of fresh ginger, this blueberry ginger ice cream by Gena Hamshaw (via Dreena Burton and Plant-Powered Kitchen) is as stunning as it is delicious.
So there you have it! Twelve healthy-carb, plant-based recipes to try tonight.
Your turn:
Post a pic of your plant-based meal free of white sugar and flour on Facebook, Instagram, or Twitter! Use the hashtag #HealthyCarbChallenge.
Join the Healthy Carb Challenge Facebook group for support and even more delicious ideas.
Tell us about your favorite healthy-carb meal in the comments below!
References
World Cancer Research Fund International Continuous Update Project (CUP). The associations between food, nutrition and physical activity and the risk of breast cancer. Syst Lit Rev. 2015. Accessed January 14, 2018.