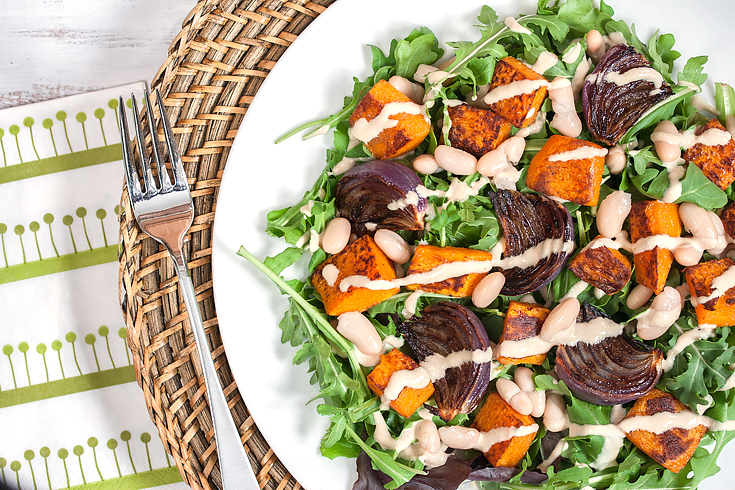 This is a little embarrassing since I write a healthy food blog, but over the holidays I fell off the wagon a lot. I mean, I couldn't say no to my brother's from-scratch plum pudding (including seconds and thirds), the cakes and candies and chocolates everywhere, the late-night snacks that fueled last-minute package wrapping…
Turns out I can resist anything but temptation.
Sleep deprivation + stress = snacking
Worse, I'm finding it harder than ever to mend my ways. You see, I recently started an online insomnia program called SHUT-i that my doctor suggested. The good news? It's working! The bad news? The first part of the treatment involves mild sleep deprivation. (!) Now I don't know about you, but being wiped out drastically lowers my junk-food defenses.
But wait, there's more! 😉
I'm also applying for a dietetic internship, the 10-month supervised practice program you have to go through to become a registered dietitian. The application process is wildly competitive—only half of applicants will be matched to an internship at all, and many programs have something like a 10% acceptance rate. Yikes.
Needless to say, I've been sweating it over here lately—and stress-snacking as a result.
Unfortunately, my body isn't happy with the changes. My pants are tight, my breast pain is back, and I generally feel schlumpy and blah. (I believe those are the technical terms.)
Yet despite having good reasons to do it, I'm still finding it hard to shift back into healthy eating.
Climbing back on the wagon (again)
Luckily, the new year brought with it some fresh motivation. With friends and family kicking their health into high gear, I've realized it's time for me to step it up a notch. I mean, I may not be able to get as much sleep as I want right now, and I still have to contend with my internship applications, but by golly I can be healthier than this while I do it!
Besides, if I've learned one thing over the years, it's that being healthy isn't about being perfect all the time, but rather about mastering the art of course correction.
Being healthy isn't about being perfect all the time—it's about mastering the art of course correction.
Click To Tweet
So in my pursuit of feeling better (and looking better too, who am I kidding ) I'm dusting off four get-healthy tricks that have worked for me in the past:
Swapping snack breaks for doing small-but-rewarding tasks, like organizing a junk drawer or tidying my desk. It energizes me and gives me a little burst of accomplishment.
Walking every morning, rain or shine
Upping my vegetable intake by eating salads at lunch and dinner
Making healthy food that I like more than junk food
While I'm only a few days in, so far I'm having luck with my old tricks. Not only am I not snacking as much, but my office is tidier than ever. 😉 I'm walking every morning, even if I have to bundle up like the Stay-Puft Marshmallow Man (woman?). And I'm eating more veggies than I have in a long time, thanks in part to my new go-to butternut squash salad.
Crazy nutritious, ridiculously delicious butternut squash salad
Adapted from a salad I experimented with for my October 2-pounds-of-vegetables-a-day challenge, this butternut squash salad is helping me get back on the straight and narrow.
Packed with fiber, 15 grams of plant-based protein, and revitalizing vitamins and minerals, it'll power you through your day.
I mean, where else can you get 935% of the daily value of vitamin A, 127% vitamin C, 213% vitamin K, 66% folate, 57% magnesium, 54% potassium, and 13% zinc, all in one place?
But more importantly, this salad is downright delicious. I'm talking tender chunks of roasted butternut squash; sweet caramelized red onion wedges; and crisp, buttery arugula—all drizzled with a creamy cashew dressing that puts the whole thing right over the edge.
In fact, just writing about it is making me hungry…for salad. (Cool, huh?) And having a salad on hand that I love this much? That's helping me get—and stay—on the wagon.
I hope it does the same for you!
Surprisingly Addictive Butternut Squash Salad with Creamy Cashew Dressing
Recipe type:
Salads & Salad Dressings
Prep time:
Cook time:
Total time:
Serves:
2 entree salads or 4 side salads
As nutritious as it is delicious, this salad is supercharged with plant-powered nutrients to send your energy soaring.
Ingredients
Salad
1 medium butternut squash (~2 lbs), peeled, seeded, and chopped into ¾-inch chunks
1 medium red onion (½ lb), peeled and cut into wedges
cooking spray
1-2 tsp ground cumin
salt to taste
2 c baby spinach
2 c arugula
1¾ c (1 can) great northern beans or other white beans, rinsed, drained, and divided (you'll use ¾ c for salad, and 1 c for the dressing below)
2 tsp hemp hearts (optional)
Dressing
2 Tbsp cashew butter (see note)
2 Tbsp agave nectar or maple syrup
3 Tbsp water
¼ c white (distilled) vinegar
1 tsp ground cumin
1 c white beans, rinsed and drained
¼ tsp salt
Directions
Preheat oven to 425F
Line 2 rimmed baking sheets with parchment paper or aluminum foil coated with cooking spray.
Spread butternut squash chunks over one baking sheet and half of the second baking sheet. Spread the onion wedges over the other half of the second baking sheet.
Spray squash and onions lightly with cooking spray and sprinkle with salt. Sprinkle the squash with 1-2 tsp ground cumin.
Roast for 10 minutes. Flip the onion wedges only and roast for another 10 minutes.
Remove onions from the baking sheet and set aside.
Flip the squash chunks on both baking sheets, and roast for an additional 15-20 minutes, or until squash is browned and tender. Remove from oven and let cool.
While squash is roasting, place all dressing ingredients in a blender and blend until smooth. Set aside.
Toss spinach and arugula together and top with roasted squash, onions, and remaining beans. Drizzle with ¼ c creamy cashew dressing (you will have about a cup left over) and enjoy!
Notes
Are you on the McDougall plan? To keep this salad fat free, dry-roast the vegetables on parchment and swap the cashew butter for another ¼ c of white beans.
Nutrition Information
Serving size:
½ recipe (entreé salad)
Calories:
376
Fat:
4g
Saturated fat:
1g
Carbohydrates:
79g
Sugar:
14g
Sodium:
525mg
Fiber:
8g
Protein:
15g
Cholesterol:
0mg
Shared on
Tasty Tuesday
,
Allergy Free Wednesdays
,
Bloggers' Spotlight Party
,
Food & Fitness Fridays
,
Gluten Free Fridays
,
Real Food Fridays
, and
Healthy Vegan Fridays
.
Your turn:
What's your favorite go-to healthy food or recipe?