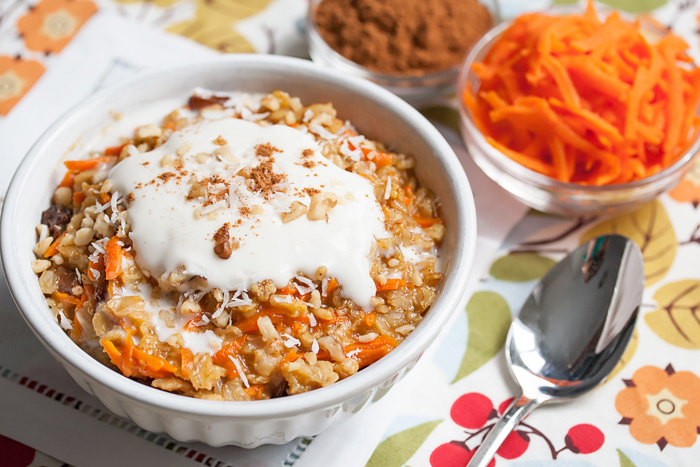 Which would you rather eat for breakfast: vegetables or dessert?
(Whoever answered veggies—overachiever! 😉 )
Honestly, despite the fact that my blog is called Veggie Quest, my inner 3-year-old—and the rest of me—would still rather have dessert first, thanks anyway.
Luckily, I've found a way to get the best of both worlds: carrot cake oatmeal.
Not only is it delicious enough to convince anyone to eat veggies for breakfast, but it's lightning fast. I'm talking 5 minutes from start to finish!
Which is great, because I know you're busy. And, as of next Monday, August 22nd, I'm going to get a whole lot busier too…because that's the day I start my 9-month dietetic internship! That's basically the equivalent of a residency for future dietitians. While not as intense as a medical residence, it still means I'll be lucky to get my beauty sleep, much less cook a hot breakfast. (More about that next week.)
Vegetable-healthy, dessert-delicious!
In the meantime, I'm excited to share a recipe that would make any RD smile. Because this oatmeal delivers some serious health benefits, before you even add toppings:
Soluble fiber from oatmeal, to mop up extra cholesterol and whisk it out of your body
Carotenoids from carrots, which support healthy vision
Nearly 3 mg of plant-based iron—15% of the Daily Value—to boost energy
Most important of all, though?
This carrot cake oatmeal delicious. Like, close-your-eyes-and-bliss-out delicious.
Quick and easy
It's also so, so easy to make. Just chuck all your ingredients in a high-sided bowl, stir, and microwave for 3-4 minutes. That's it! For a weekend family breakfast, quadruple the recipe, cut the total liquid by ¼ cup, and make it on the stove top.
However you make it, though, be sure to have fun toppings on hand! I used crushed walnuts, a little shredded coconut, and a couple of tablespoons of this decadent almond milk yogurt as "icing":
Although the plant-based cream cheese icing from these skinny cinnamon roll muffins would be amazing, too.
You can also make a big batch of carrot cake oatmeal on Sunday and pop it in the fridge. It firms as it cools, so you can cut it into pieces on Monday morning and have breakfast ready for the rest of the week! Plus, it's extra tasty when it's cold—especially with a dollop of yogurt or coconut cream.
Finally, feel free to freestyle, like my friend and former classmate Kelda Reimers, RD, did. After reading this 2 pounds of vegetables a day post where I first experimented with carrot cake oatmeal, Kelda made her own version for her daughter. She used pre-shredded, multicolored carrots (which she minced to sprinkle size) and called the result "funfetti" oatmeal. Her daughter loves it!
So there you have it: vegetables for breakfast that taste like dessert. What better way to nourish your body—and delight your inner 3-year-old!
Carrot cake oatmeal (gluten free and vegan)
5-Minute Carrot Cake Oatmeal
Prep time:
Cook time:
Total time:
Treat yourself the healthy way! As delicious as it is nutritious, this carrot cake oatmeal is crazy good and packed with vitamin A, iron, and magnesium.
Ingredients
½ c old-fashioned (rolled) oats, gluten free if needed
½ c shredded carrot (lightly packed)
¾ c unsweetened vanilla almond or coconut milk (not full-fat if coconut milk)
2 Tbsp raisins
½ tsp cinnamon
¼ tsp vanilla extract
pinch of salt
sweetener: 2 packets Truvia or 1-2 Tbsp maple syrup (to taste)
Optional toppings: Almond or coconut milk yogurt, sliced bananas, chopped walnuts, shredded coconut, raisins, etc.
Directions
Combine ingredients from oats through sweetener in a tall, microwave-safe bowl. Microwave on high, uncovered, for 3-4 minutes, watching for the last minute to ensure it doesn't boil over.
Add toppings and enjoy!
Notes
I like a little texture to my carrots, but if you want them really soft, microwave them with 1 Tbsp water, covered, for 1-2 minutes. Then follow the recipe as written.

Nutrition information based on 1 recipe, no toppings, made with Truvia.
Nutrition Information
Serving size:
1 recipe
Calories:
242
Fat:
5g
Saturated fat:
0g
Sugar:
11g
Sodium:
251 mg
Fiber:
8g
Protein:
7g
Cholesterol:
0mg
Your turn:
Vegetables for breakfast: delicious or ick?
If you eat breakfast veggies: What's your go-to breakfast veggie dish?
Shared on the Healthy Living Link Party, Plant-Based Potluck Party, Allergy-Free Thursdays, Healthy Vegan Fridays, Gluten Free Fridays, and Real Food Fridays.