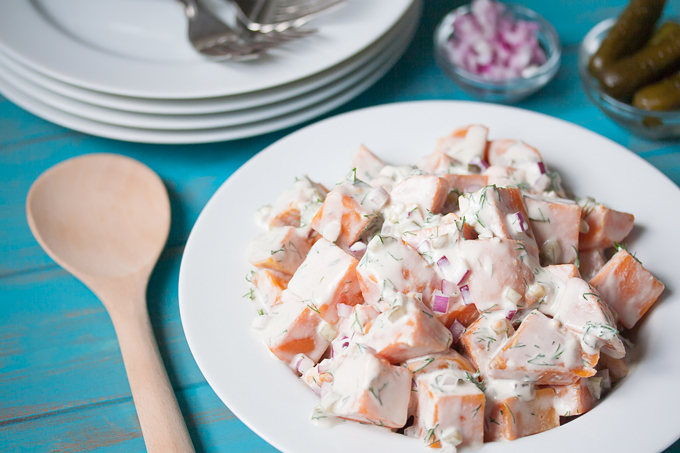 Oh y'all, I can't think of anything more Southern than sweet puh-tay-tuh salad! (Except maybe kudzu, which is—surprisingly—edible.)
Anyhow, making this sweet potato salad is easy as falling off a log, which leaves more time for ice-tea-sipping and porch-sitting, two time-honored Southern pastimes.
So in an attempt to do more of both of those pastimes while the cicadas are singing, I'll keep this post quick as a jackrabbit.
In fact, all y'all need to know about this Southern Sweet Potato Salad is that's it's sweet, salty, creamy, and savory all at once—plus packed to the brim with nutrients. Better yet, you can make it without turning on your stove. (Seriously.)
Also, it's omnivore approved—thank you, Dad!—which is extra important if you're south of the Mason-Dixon line.
So g'on and make you a batch—one forkful and you'll swoon like a Southern belle! 😉
Easy Southern Sweet Potato Salad (Vegan)
Recipe type:
Salads & Salad Dressings
Prep time:
Cook time:
Total time:
This oil-free sweet potato salad is as easy as it is tasty---you don't even have to turn on the stove!
Ingredients
4 medium sweet potatoes (2 lbs, or 8 c of cubes)
¼ c finely diced red onion
2 Tbsp chopped fresh dill (lightly packed)
2 Tbsp finely diced sweet pickles (optional, but tastier with)
Directions
Prepare ranch dressing the day before if possible, using the recipe here. (See Notes if making for immediate use.)
Peel sweet potatoes and cut into 1-inch cubes.
Cook sweet potato cubes until fork-tender whichever way you prefer:
→ Microwave in a covered dish with ¼ c water for 10-12 minutes, stirring halfway through OR
→ Roast at 375F in a single layer on two rimmed baking sheets lined with parchment for 25-30 min, stirring 1-2 times during cooking.
Cool potatoes in the fridge for 15-30 minutes.
Using a silicone spatula or wooden spoon, gently toss potatoes with dressing, onion, dill, and diced pickles.
Serve immediately, or refrigerate for up to 3 days.
Notes
If making ranch dressing for immediate use: For the full dressing recipe, reduce water by ¼ c and place dressing in the fridge to thicken while cooking the sweet potatoes.
Your turn:
When it's hotter n' Hades outside, do you sweat or glow? (Southern ladies, y'all know what I'm talking about!)
What's your favorite Southern food?
Shared on the Healthy Living Link Party, Allergy Free Thursdays, Plant-Based Potluck Party, Real Food Fridays, Healthy Vegan Fridays, and Gluten Free Fridays.