Lately, all I want to do is clean. To the point of letting other important things in my life go, like, you know…friendships. And sleep. (I'm still showering, though. You're welcome, Jeff!)
Maybe it's been the stress of waiting to hear whether I'd been "matched" to a dietetic internship program for next year, and if so, where. (The internship for future dietitians is akin to a residency for med students, only shorter at 10 months and slightly less insane.) The "match" process is stressful because you rank your top programs, they rank their top applicants, and then you wait to see how—and if—a computer algorithm matches you to an internship. Everyone in the nation finds out if/where they match at the same time: 7pm EDT last (Sunday) night.
So, what happened? I got an internship with an awesome program, Virginia Tech! I feel thrilled and blessed and so excited to be one step closer to my RD.
Needless to say, though, the last few weeks have been one long waiting game, and putting my hands to honest work around the house has felt like a relief.
I mean, not as good as eating chocolate chips by the handful. But almost.
Also, to be fair, my house was in desperate need of a spring cleaning. I mean, last week I ironed a couple of shirts that I put aside to press over a year ago. A YEAR AGO.
I know, right?
I also replaced our smoke alarm, installed a carbon monoxide detector, checked our fire extinguisher, cleaned the sump pump grates, scraped some weird, mildewy old privacy plastic off the bathroom window (which also has blinds 😉 ), and recycled months of old magazines and catalogs.
Now I'm on to the kitchen…and my first victim is the fridge! As you can see, it's in need:
Normally when I clean the fridge, I just move stuff around and wipe. But this time, I wanted it really clean. To make sure I didn't miss anything, I consulted the grand poo-bah of homemaking overkill: Ms. Martha Stewart herself.
Okay, I actually consulted the fridge cleaning page on MarthaStewart.com, along with my refrigerator's care manual. (Adulting grade for the day: A+) I then condensed what I learned into 10 easy steps, including tips from my own foray into fridge cleaning, to help you get your fridge spic and span!
Even more exciting: Doing a deep clean improves the efficiency of your fridge—which saves you money.
So grab a rag; let's get cleaning!
How to clean your fridge: 10 Easy steps
Step 1: Take everything out
Take everything out of your fridge and freezer and put it on the counter. This may be terrifying, depending on what's back there. Luckily, you're a tough cookie.
Step 2: Toss expired items
Go through your items and throw away anything that's:
Spoiled or expired
Freezer-burned
Old enough you want to sniff it
Not sure if something is okay? Go to StillTasty.com. Enter the food in the search box to find out whether you should keep or toss.
Stash everything you're keeping in a cooler.
Step 3: Remove shelves and wipe down inside of fridge
Unplug your fridge if you can. Brush out crumbs. Make a baking soda solution with
1 quart warm water
1 Tbsp baking soda
Wipe the inside surfaces with a sponge or cloth soaked in this solution. Don't forget pesky spots like the drawer runners! Rinse and dry.
(Don't use dishwashing liquid; plastic can absorb the smell, making your Puttanesca taste like Palmolive.)
Step 4: Wash shelves and drawers
Using the same baking soda solution, first wash plastic drawers, then glass shelves. This gives glass shelves time to warm up so they don't crack when you wash them. Rinse and dry.
Step 5: Replace drawers and shelves
Put the shelves and drawers back in.
If you have multiple crisper drawers, set your fruit drawer to low humidity and your vegetable drawer to high humidity. This helps your produce last longer and saves you money.
Plug fridge back in.
Step 6: Clean the door gasket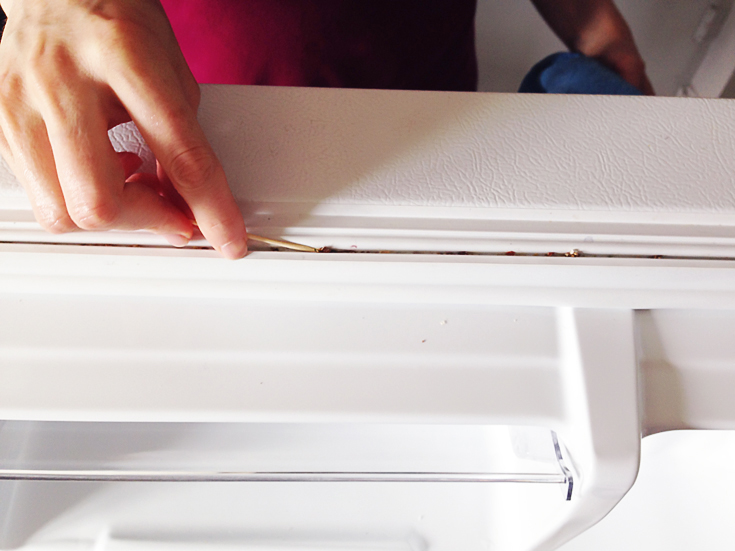 The gasket, that squishy plastic that outlines your fridge door, is a gunk magnet. Use a toothpick to gently dislodge crumbs from the folds if needed. Then wipe with a wet cloth and dry. Check the seal, too; cold air can leak out through a cracked gasket, which costs you in electric bills.
Now here's the weird bit: Apply a thin layer of petroleum jelly to the gasket on the hinge side of the door. This helps prevent the gasket from sticking to the fridge when you open the door and extends the life of the gasket.
Step 7: Vacuum the coils
If you can reach them, vacuum your fridge condenser coils. They're usually underneath or behind the fridge. The coils release heat, and dust buildup can make your fridge work overtime, costing you money!
Extra credit: Pull the fridge out from the wall and vacuum behind it. You'll be surprised/horrified at what you find back there. 😮
Step 8: Replace food the right way
Thanks to my food service class and tips from The Kitchn, here's the safest way to arrange the food in your fridge:
Upper shelves: Ready-to-eat items and leftovers. Since you won't be cooking them, putting these foods up top reduces the risk that they could get dripped on or contaminated.
Lower shelves: Ingredients you're going to cook, like tofu, chopped veggies, etc.
Crisper drawers: Fruits and vegetables, each in their own drawer.
Door: Condiments. The door is the warmest part of the fridge, so don't put anything there that's prone to spoilage.
A word about animal products: Raw meat, poultry, fish, and eggs are a food safety risk. If you eat them, store them in their own drawer or hard plastic bin in the lowest part of the fridge. (So they don't drip on other foods.) My advice: Skip the meat for cancer-fighting beans and tofu!
Step 9: Wipe down the outside
Remove all papers, magnets, works of art, and shopping lists from the fridge. Using a food-safe, all-purpose cleaner, wipe the top, handles, and outer surfaces.
Step 10: Display favorites
Replace only items you love on the front of the fridge, like a cheerful meal planning pad or this witty magnet, for that just-right amount of edge:
If you have to post practical items on the fridge like shopping lists (I know I do), use strong magnets and pare down as much as possible.
Step back and enjoy your gorgeously clean fridge!
How to Clean Your Fridge: 10 Easy Steps + Free Printable
Click To Tweet
Before and after
Drumroll, please: Check out these sweet before and after pics!
Ready to clean your fridge? Free printable & photo share!
Are you in spring cleaning mode too? If so, print out a free handy checklist version of these steps here: Free Printable: 10 Easy Steps to a Clean Fridge.
Then clean your fridge and leave a comment to let me know how it went! Better yet: link to a picture of your fancy-clean fridge on your blog or Twitter.
I'll post and tweet pictures of everyone's clean fridges next week!
Shared on Healthy, Happy, Green & Natural.