If you're trying to work in more veggies, you're going to love this month's 1-day, 2-pounds-of-vegetables post!
As always, you'll get tasty tips for working veggies into your menu. However, you'll also find 3 delicious whole-food, plant-based (WFPB) recipes from around the web. Each is fast and easy, because we're all busy. However, these recipes are also packed with produce, plant-powered protein, and—of course—major flavor.
For the first time ever this month, you can download a PDF of the menu, with links to all the recipes in one handy place. Grab it at the end of the post!
Also, throughout this post I've included links to a few staple ingredients and products that make eating plant-based easy. They're all products I use frequently, but may be new to you. In fact, while I do make a commission if you buy items through some links in this post, I'm actually including the links by request. Because, as a reader informed me, not everyone uses fig vincotto vinegar, or knows which brand of kelp granules is best.
Weird, right? 😉
So get ready for a day full of veggie ideas, tasty recipes, and maybe even your new favorite brand of (low-fat, gluten-free, vegan) veggie soup. You can see the day's veggie count and nutrition facts at the end of the post!
Breakfast: Strawberry oatmeal bowl with baby spinach salad
Veggies:
2 big handfuls baby spinach (2 oz)
I've been falling into a breakfast rut lately, so I was excited to try Julia's Strawberry Oatmeal Breakfast Bowl featured on Oh My Veggies. And boy, was it good! She combines lively textures like creamy rolled oats, the pop of chia seeds, and the chewy bite of sliced almonds, and of course, juicy strawberries.
As usual, I played with the recipe a bit, substituting lower-fat So Delicious coconut milk for canned, swapping raisins for some of the maple syrup, and adding a pinch of 0-calorie NuNaturals LoSweet (monk fruit extract) to satisfy my sweet tooth.
I made my oatmeal bowl in the microwave (3 minutes for a half-recipe), and it was crazy good. It's going to be a new weekday favorite!
I also had a baby spinach salad with strawberries and a drizzle of my all-time favorite fig vincotto vinegar:
Sweet-tart fig vincotto vinegar is the perfect complement to breakfast salads, and at only 10 calories per tablespoon, it won't break the nutrition bank. I should also mention this has been my mom's go-to "salad dressing" for the last 2 years as she's shed over 85 pounds. (Read her story here.)
Actually, to be accurate, she's lost over 90 pounds now—keep an eye out for an update from her soon!
Lunch: Tu-no salad with roasted potatoes and crisp sweet pepper strips
Veggies:
1 cucumber (8 oz)
lettuce leaves + celery in salad (1 oz)
3 baby red potatoes (8 oz)
½ large red bell pepper (3 oz)
Taking a tip from Ellen C—who munches on veggies while opening the mail (idea #7 from 30 Ways to Eat More Vegetables)—I noshed on cucumber sticks while prepping the rest of lunch. Before I knew it, I'd eaten an entire cucumber…and lunch was ready, too!
And oh, lunch—so good! Now that it's officially spring here in the states, I made one of my favorite warmer-weather recipes: Cathy's Tu-No Salad from Straight Up Food.
If you aren't familiar with Straight Up Food, you'll want to check it out. Cathy works magic with whole-food, plant-based ingredients. Every one of her recipes is 100% Eat to Live friendly and free from added salt, oil, and sugar. Yet I've never had a Straight Up Food recipe I didn't like! And Cathy's tu-no salad is no exception. With crunchy celery and a creamy dressing made from cashews and Dijon mustard, tu-no salad is better than the "real" thing. Plus, it's a good source of iodine thanks to the addition of kelp. (I use Sea Seasonings kelp granules.)
I paired my tu-no salad with easy roasted new potato wedges (425F for 22 minutes, flipping once) and sweet bell pepper strips. I also had a side of ketchup, not pictured, because I can't eat potatoes without an absurd amount of ketchup.
I rounded out my meal with 42-calorie almond milk hot chocolate and this purty red apple:
Snack: Popcorn, carrots, and cashews
Veggies:
handful baby carrots (3.5 oz)
My snack was quick and simple: Easy DIY microwave popcorn with a spritz of Bragg's Liquid Aminos, an ounce of raw cashews (not shown), and sweet-n-crunchy baby carrots.
Yes, I know "baby carrots" are actually giant carrots cut with a lathe and washed with bleach. But they're organic, cheap, and easy to eat. So I eat 'em.
Oh, and I had another cup of almond milk hot cocoa. Because chocolate. Here's a pic from an earlier post, just to make you drool a bit…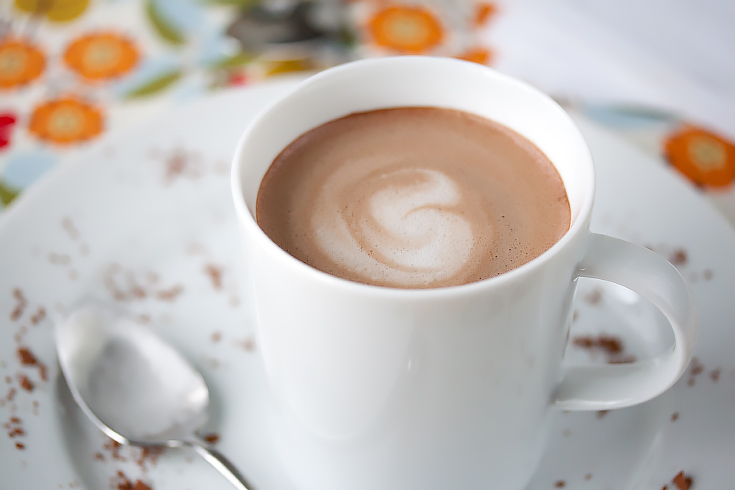 Dinner: Ultimate veggie sandwich, pepper strips, spinach salad, and garden vegetable soup
Veggies:
sandwich veggies (radish, carrots, cucumbers, spinach)
soup veggies (carrots, green beans, potatoes, peas)
red pepper strips
1 big handful baby spinach for salad
Are you drooling over this sandwich yet?
I'm getting hungry just posting the picture, because this Ultimate Veggie Sandwich from Tracy at Shutterbean was over-the-top good. It's got everything you'd ever want in a veggie sammie: creamy cilantro hummus; sweet shredded carrot; crisp, spicy radishes; cool cucumber slices; and the fresh zing of parsley all layered between two pieces of tasty gluten-free bread. (Specifically, Food for Life's sprouted 3-seed bread, which is moist, dense, and 100% vegan.)
I kept the other veggies simple, just a spinach salad and more pepper strips dipped in the same cilantro hummus. I also warmed up a cup of Dr. McDougall's lower-sodium vegetable soup.
All in all, dinner took 20 minutes to throw together—including making my own oil-free cilantro hummus. Easy and delicious!
The final tally
So, did I make it to 2 pounds of vegetables? Here's the final score:
I have to say, I also felt light and surprisingly energetic the next day, especially since I was still getting over a virus. (Note to self: Eat more veggies = get better faster.) I'm thinking these nutrition facts might have had something to do with it…
Nutrition facts
Holy moly! Are vegetables great or what? I'm telling you, there's no better way to pack amazing nutrition into your day. As always, there was plenty of plant-based protein (about 14 grams over my RDA), along with lots of fiber, vitamin A, vitamin C, calcium, and iron.
Of course, if you're not used to eating lots of vegetables, it's best to increase intake gradually to keep your insides happy. And if you have a health condition, it's good to check with your doctor or dietitian before making big dietary changes.
That said, just working in just one extra serving of veggies a day is good for most people. So if 2 pounds of vegetables isn't your thing, know that every little bit helps.
Hope this has given you ideas for working more veggies into your day—and helped you discover some deliciously healthy new recipes, too!
Shared on What I Ate Wednesday.