Are you a Forks Over Knives or Fuhrman Fan? Do you eat a low-fat, plant-based diet à la Dr. McDougall or Dr. Ornish? Then again, perhaps you just want to serve up a delicious Thanksgiving feast that delights and nourishes the people you love?
If you answered "yes" to any of these questions, you're in the right place! Read on for 10 stellar recipes that are not only low-fat and vegan, but gluten free too. So everyone—even those with wheat, dairy, and egg sensitivities—can join in the fun.
Bonus: Many of these recipes are quick, easy, and/or make-ahead. Let's get cooking!
What better way to welcome your Thanksgiving guests than with this jewel-toned cranberry pomegranate cider from Jasmine at Sweet Simple Vegan? Rich in polyphenols and antioxidants, this festive drink is as healthy as it is delicious. And since it's alcohol-free, even the littlest guest can partake. 🙂 Serve chilled in wineglasses or steaming hot in cozy mugs. Make ahead, or mull this cider on Thanksgiving day to make your house smell divine!
Making the Thanksgiving meal can be time-consuming; luckily this Veggie Quest spinach, cranberry, and pecan salad isn't! It takes less than 5 minutes to pull together—just assemble and serve. Yet it looks gorgeous in a Thanksgiving spread and captures the tastiest flavors of fall. I like to serve it with a drizzle of fig vincotto vinegar or low-fat, store-bought balsamic vinaigrette. If you need a lower-fat swap for pecans, try crumbling in whole-grain, gluten-free pretzel rods from Mary's Gone Crackers. Yum!
Kudos to Deborah at Urban Naturale for this beautiful, oil-free butternut squash soup! Redolent with onions, nutmeg, and the surprising sweetness of pineapple, it makes a scrumptious (and healthful) starter for your family get-together. Better yet, you can make this soup a day or two ahead. So you can spend less time in the kitchen—and more time with those you love—on Thanksgiving.
Simple and simply delicious, these skillet-browned Brussels sprouts from Susan at FatFree Vegan Kitchen were actually her daughter E's inspiration. However, unlike the sad, smushy sprouts of my youth (sorry Mom! 😉 ),  these stove-top sprouts are cooked until just tender. Savory mushrooms and sweet caramelized onions up the yum factor, while this dish's gorgeous green color is bling for your tabletop. Extra bonus: Since they're browned on the stove, these tasty sprouts won't compete for oven space on Thanksgiving day!
If you're looking for something different for your Thanksgiving entree, try these stuffed peppers from Kimmy at Rock My Vegan Socks! Filled with a fluffy quinoa stuffing studded with mushrooms, celery, and sun-dried tomatoes, these cheerful stuffed peppers will bring a smile to your guests' faces. What's more, you can make the stuffing in advance to streamline day-of prep. While this recipe does use a touch of olive oil to saute the stuffing veggies, you can use veggie broth instead if needed. However you make it, though, you're sure to be in for a treat!
The traditionalists out there will love this recipe! Created by Cathy at Straight Up Food, this lentil and rice loaf incorporates all the classic Thanksgiving flavors—sage, thyme, and rosemary—but with the health benefits of protein-packed, fiber-rich lentils and brown rice. And not only does this loaf look incredible, it's free from added salt, oil, and sugar. Hearty and healthy, it pairs beautifully with Cathy's creamy mushroom gravy for the full Thanksgiving experience.
I confess, I was practically drooling when I came across Megan's grain-free stuffing on Detoxinista. She ingeniously substitutes roasted parsnips for the traditional bread crumbs, making this stuffing not only gluten-free but vegetable-rich—which, as you know, warms my soul! Mushrooms, onions, and carrots add to the veggie goodness, while fresh thyme and sage complete the dish and make it the perfect partner for Cathy's lentil & rice loaf. (Note: Use broth instead of oil when sauteing the garlic and mushrooms if needed.)
What's Thanksgiving without cranberry sauce? Luckily, this orange-kissed version from Lindsay at Happy Herbivore is as simple as it gets, with just 3 easy ingredients! From one of my favorite low-fat vegan cookbooks of all time, The Happy Herbivore Cookbook, it's sure to be scrumptious with lentil loaf and stuffing!
This lightened-up sweet potato casserole by Gina at SkinnyTaste makes me wish every day was Thanksgiving! Warming spices, golden raisins, and pineapple form the base for this delicious casserole. It's also topped with just enough pecans and marshmallows to be festive without going overwhelming the natural sweetness of the yams. Just be sure to use gluten-free, vegan mini-marshmallows, like Dandies, to keep this plant based and safe for those sensitive to gluten.
Oh my heavens, this pie! Created by Chef AJ and cooked by Wendy at Healthy Girl's Kitchen, it contains no added oil, salt, or sugar. Yet somehow I can't wait to get my fork into it! Amazingly, it's fairly low fat, and what fat it does contain comes from some of the healthiest sources around, like chia and flax seed, as well as a small amount of shredded coconut. Sweetened with dates and loaded with flavor (dried apples baked right into the crust!) this apple pie is the perfect finish to a hearty and wholesome Thanksgiving feast.
Bonus: For those of you who can't have Thanksgiving without pumpkin pie—or at least something made with pumpkin—be sure to check out this post featuring 7 low-fat, gluten-free, vegan pumpkin recipes. (Including the world's yummiest vegan pumpkin pie!)
May this be your best—and tastiest—Thanksgiving ever!
Pin it for later: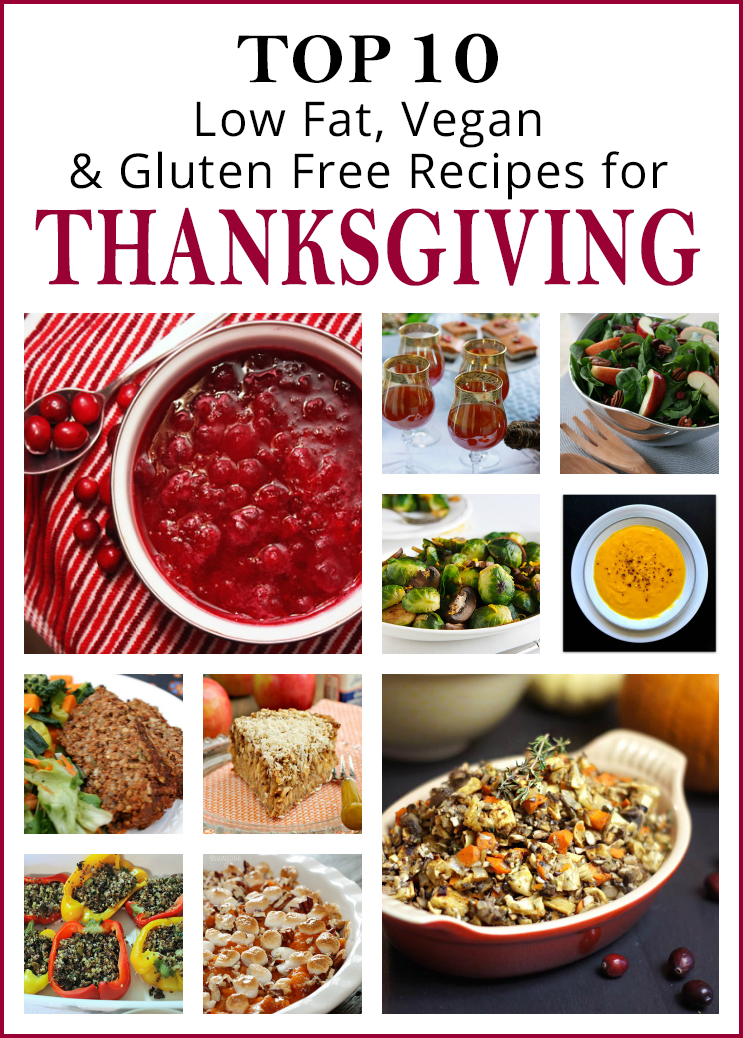 Shared on Food & Fitness Friday, Gluten-Free Fridays, Healthy Happy Green & Natural, Healthy Vegan Fridays, Homestead Blog Hop, and Real Food Fridays.