How to Make a Monster Dip Veggie Tray: Click here for a LIVE demo on Good Morning Washington!
Hello Good Morning Washington viewers! If this is your first time here, check out these easy recipes and reader favorites like 6 Fast & Easy Ways to Use Pumpkin. You can also learn about me and the health scare that got me eating (mostly) right. Otherwise, read on for frighteningly fun and healthy Halloween treats!

Feeling stressed? Have a little fun with healthy Halloween treats!

Have you ever had an experience that was hard and tiring, but you wouldn't trade it for anything? In fact, maybe you're having one right now. If you are, I'm hear you, because I'm having one too!
You see, for the past 6 weeks, I've been training in-hospital as a dietetic intern. That means I'm helping people with illnesses like cancer and diabetes get the nutrition they need to get better. I've found I care deeply—perhaps to a fault—about each patient I meet,  so I try hard to provide the best possible care all day, every day. As a result, I feel like I'm making a difference, but I'm also totally exhausted. (Parents and anyone in a helping profession: Can I get an amen?)
For example, in a single day last week, I laughed out loud with one patient, provided in-depth education to another who wanted to do all he could to get better,  and bit back tears talking with the family of a third patient facing a serious illness. Tack on a long commute and homework, and not only am I stressed, but I'm over-busy, too. (Sleep? What's that?)
In fact, things have been so busy I can barely believe Halloween is almost here. Yet given how intense the last few weeks have been, I'm more than ready to cut loose with a little Halloween fun!
However, for me—and maybe for you, too?—"Halloween fun" usually starts with good intentions but ends with a candy hangover. This year, though, I say we buck the trend. Instead of going on a sugar bender, let's treat ourselves to food that's a good time—and good for us, too! Now that's stress relief. 🙂
To that end, I'm sharing 2 fun and healthy Halloween treats that are ready to party. Better still, you can make each one in less than 15 minutes! I even included a "bonus" treat at the end, which takes a little more time but is super tasty and  frighteningly cute, too.
So summon up your Halloween spirit (see what I did there? 😉 ) and join me for some fast and healthy Halloween fun!
1. Monster Dip Veggie Tray
Loaded with plant-based protein, fiber, iron, and folate, the dip for this veggie tray is ready in 5 minutes. Making the face is easy and fun with an inexpensive mask, and the completed tray will be the star of your Halloween party!
I recommend putting this veggie tray out just as guests arrive. They'll fill up on nutritious veggies without even realizing it. Tricky, no?
Click here for dip recipe and step-by-step instructions.
2. Pumpkin Pie Dip with Apple Slices
Serve this pumpkin pie dip with apples for an appetizer, or with vanilla wafers or oatmeal cookies for dessert. Loaded with fiber, phytochemicals, and vitamin A, this pumpkin dip is the best part of the pie!

10-Minute Pumpkin Pie Dip with Sliced Apples
For a party-ready dish in 15 minutes, use bagged sliced apples. (Available at most grocery stores.)
Ingredients
Dip
1 can pureed pumpkin (preferably Libby's; see note)
1½ small apples, peeled and chopped
⅓ c maple syrup
6 Tbsp almond butter
2 tsp pumpkin pie spice
1 tsp cinnamon
1 tsp lemon juice
⅛ tsp salt
Apples & Pumpkin "Bowl"
8 apples (any variety except Granny Smith)
pineapple juice
mini-pumpkin (optional)
Directions
Combine all ingredients in a food processor and process for at least 2-3 minutes until smooth, pulsing and scraping occasionally.
Slice apples; dip in pineapple juice, to prevent browning.
If serving dip in a mini-pumpkin: Cut off mini-pumpkin top and remove seeds and strings as you would for a jack-o-lantern. Use a paring knife and/or a grapefruit spoon to remove additional flesh to create more space for dip if needed. Fill with dip, top with a few pecan halves, and surround with apple slices.
Notes
This recipe was written using Libby's canned pumpkin, which is thick. If you use another brand, substitute ½ c sugar in place of the maple syrup. This will help maintain consistency.
For a whole-food version of pumpkin dip sweetened with dates and raisins, click here.
3. Banana Ghosts with Healthy Chocolate Dip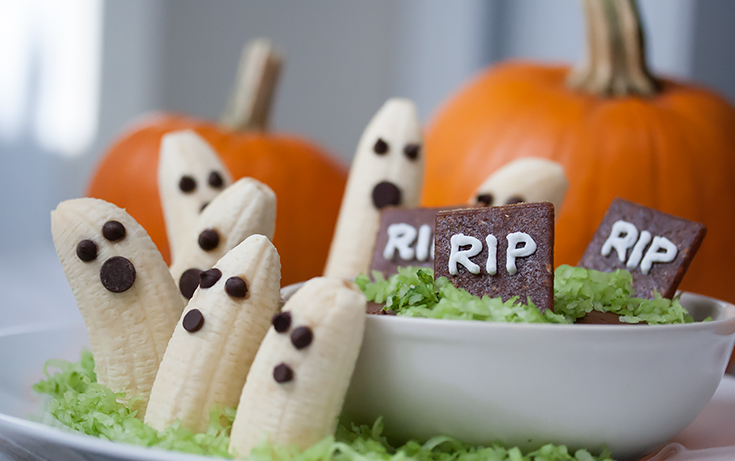 This spook-tacular party plate is a hit with kids of all ages! With coconut "grass" and chocolate dip made with sweet potatoes, this ghoulish treat is a fun way to trick your kids—into eating healthy, that is.
Click here for the recipe and instructions.
Happy Halloween!