The Thursday before last, my mom and I got a call that my Papaw was in the hospital. He'd developed severe pneumonia, and it didn't look like he was going to make it. We drove to Kentucky to be with him and the rest of the family.
Then, after a few days in the local hospital, he was flown by helicopter to a hospital with life support capabilities. There he's been on a ventilator for the last 5 days, and defying everyone's expectations, he's improving. While he's not out of the woods yet, after 8 days living out of a suitcase and working out of a hospital lobby, my mom and I felt things were stable enough to come home.
As you can imagine, the last week has been a roller coaster of end-of-life issues.
Killer food
However, this emergency trip was also an eye-opening glimpse into a dangerous food culture.
Even more than in Maryland, in Kentucky, fried chicken, greasy burgers, and french fries are the norm. So are high blood pressure, heart disease, and diabetes. I saw nurses and techs working in the hospital who looked so sick they might soon need a hospital room soon themselves. I saw patients far too young fighting for their lives from what seemed to be lifestyle-related illness.
So much senseless suffering! It doesn't have to be this way!
After all, delicious, nutritious food can prevent, or even reverse, many cases of these awful diseases in the first place.
No more amputated limbs from type 2 diabetes. No more loved ones taken too soon by a preventable heart attack. No one's mind lost slowly to the void of vascular dementia.
While some people may have genes that so predispose them that nutrition won't work, most cases of heart disease and type 2 diabetes can be prevented or possibly even reversed.
Hope for the future
Yet I also saw glimmers of hope. In the ICU waiting room hung a poster for the Dean Ornish Program, being held right there at that hospital in Kentucky. The low-fat vegetarian diet that Dr. Ornish prescribes, unlike any pill or procedure, can actively reverse heart disease.
My mom and I found healthy plant-based options at unlikely chain restaurants, like Logan's Road House and Cracker Barrel. And at the Kroger in Morehead, deep in the Appalachian mountains of Eastern Kentucky, we found McDougall soup cups, which were a lifeline for us while we were there. One night my mom and aunt even made a vegan chili that everyone in my meat-eating family loved!
So while many Americans still have dangerous habits when it comes to food, I think we might be turning a corner. In tiny baby steps, plant-based nutrition is finding a toe-hold. As a result, I've never been more excited to be on the path to being a dietitian. Because I firmly believe that food is the best medicine, and when people eat better, they get better.
Protein-packed pasta salad
After the emotional exhaustion of a week at the hospital, I was craving healthy comfort food. Inspired by last week's post,  10 Oil-Free Vegan Potluck Recipes Omnivores Will Love, I came up with a delicious bean-and-pasta salad that's filling,  delicious, and tastes surprisingly like a slice of pizza. (Only healthy.)
Packed with 8 grams of protein per cup and just as much fiber, you can easily make a meal out of it, which makes it perfect for a potluck where you may not have other healthy options. It's loaded with flavor from sun-dried tomatoes and sweet-crisp peppers, so everyone will love it.
Best of all, you can whip it up in 30 minutes.
Just goes to show that plant-based cooking doesn't just fight disease—it's easy and delicious!
And I don't know about you, but for me, cooking is therapeutic too. So after a traumatic week, making this pasta salad was healthy in every possible way!

Oil-Free Pizza Pasta Salad
Recipe type:
Salads & Salad Dressings
Serves:
12 1-cup servings
This fresh and filling gluten-free pasta salad is perfect for potlucks.
Ingredients
16 oz gluten-free pasta (2 8-oz boxes)
1 15-oz can chickpeas or cannellini beans, rinsed and drained
1 15-oz can kidney beans, rinsed and drained
1 large green bell pepper (or 2 small), seeded and diced
1 c julienned sun-dried tomatoes, lightly packed (see note)
½ c pitted black olives, sliced
⅔ c fat-free or lite Italian dressing (DIY version here)
2 tsp dried oregano leaves
¼ c toasted pine nuts (omit to keep McDougall-friendly)
Directions
Cook pasta according to directions on package.
While pasta is cooking, toss remaining ingredients in a large bowl, reserving 1 Tbsp of pine nuts.
When pasta is cooked, rinse with cold water and immediately add to salad. Toss gently to coat.
Top with remaining 1 Tbsp pine nuts.
Notes
If sun-dried tomatoes are not moist, soak in hot water for 20 minutes and drain before adding to pasta salad.
Nutrition Information
Serving size:
1 cup
Calories:
257
Fat:
4g
Saturated fat:
0g
Carbohydrates:
50g
Sugar:
6g
Sodium:
559mg
Fiber:
8g
Protein:
8g
Cholesterol:
0mg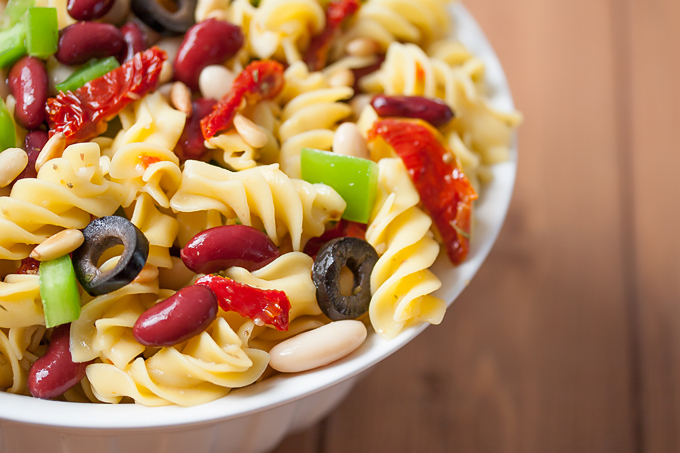 Shared on Lou Lou Girls Fabulous Party, Healthy Happy Green & Natural, Allergy Free Wednesdays, Healthy Living Link Party,  Plant-Based Potluck Party, Healthy Vegan Fridays, Gluten Free Fridays, and Real Food Fridays.