Are you trying to eat more vegetables?
Me too! So once a month, I challenge myself to eat 2 pounds of vegetables in 1 day. And this month's theme is sweet potatoes. That's mostly because I love them, but it's also in honor of Cook a Sweet Potato Day, celebrated every year on February 22nd. In honor of this special day, I had them at every single meal—even breakfast.
What's funny is that I used to abhor sweet potatoes. As a baby I spit them out. As a kid, the only reason I had sweet potatoes at Thanksgiving was to eat the marshmallows off the top. In fact, it wasn't until I graduated college that I learned to love sweet potatoes, topped simply with sour cream and freshly cracked black pepper. While I don't eat dairy sour cream anymore, I've come to love sweet potatoes every which way, and eat them nearly every day.
And that's great, because sweet potatoes are nutrition powerhouses. Rich in fiber, their complex carbohydrates are absorbed slowly for steady blood sugar and energy. Best of all, their high levels of naturally occurring carotenoids like beta-carotene may even make them breast cancer fighters.1
In fact, I just had my annual breast check, which I find really stressful even though my surgeon and her nurse practitioner are wonderful. Luckily, all looks good at the moment. I'm not saying that's because of my sweet potato habit, but I'm not saying it isn't, either… 😉
Anyhow, if you love sweet potatoes, this 2-pound day is for you, because I've included three ways to enjoy them. But even if you don't, you'll still find ideas for ways to work more veggies into your day. Read on for inspiration—and to see if I made it to 2 pounds!
Breakfast: Sweet potato pie quinoa bowl, baby spinach salad, and orange slices
Veggies consumed:

½ cup (scant) cooked sweet potato (3.5 oz)
2 handfuls baby spinach (2 oz)
As you may know, I have a thing for making hot cereal taste like dessert. (Like last month's carrot cake oatmeal; the recipe will be up in time for Easter.)
Since today's theme was sweet potatoes, I made an experimental sweet potato pie quinoa bowl, with quinoa flakes, mashed sweet potato, cinnamon, nutmeg, ginger, and allspice. Stirred together with 2 Tbsp of raisins and topped with 1 tsp of maple syrup, it was pretty good–would definitely make again.
Way #1 to love your sweet potatoes: Stirred into hot cereal. Swap half your hot cereal for cooked, mashed sweet potato. Add a pinch of salt, sweetener to taste, and a few shakes of cinnamon for a tasty start to your day.
I also had my typical fruit and greens, with a drizzle of thick, sweet, and surprisingly low-calorie fig vincotto vinegar over the spinach. If you don't eat fresh greens with breakfast, I highly recommend it! A light morning salad is an easy habit to start and a great way to work more veggies into your day. In fact, I'm so used to my breakfast salad now that when I travel and there's no salad at breakfast, I get a little weirded out.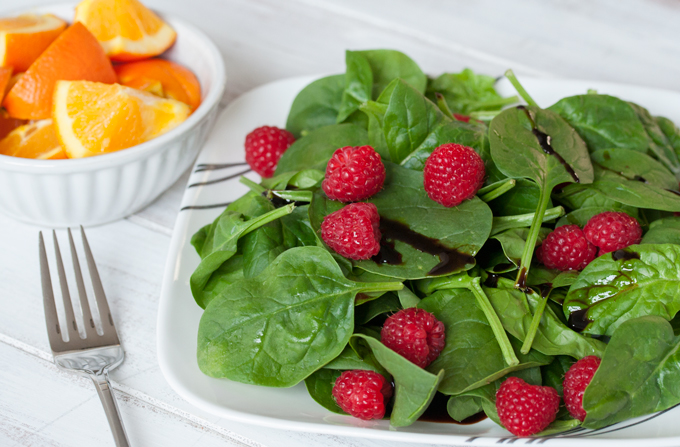 Lunch: Roasted sweet potato with barbecue beans, and salad with tahini dressing
Veggies consumed:
2 handfuls spring mix (2 oz)
½ large cucumber (6 oz)
¼ c grated carrot (1 oz)
~2 c roasted sweet potato cubes (6 oz)
Even though this is a 2-pounds post, what you're seeing above is pretty much my "everyday" lunch salad: lettuce, whatever veggies are in the fridge, my favorite oil-free tahini dressing, and a sprinkle of hemp seeds for omega-3s.
I also had some sweet potato chunks, which I spritzed lightly in cooking spray and sprinkled with cinnamon before roasting them for 25 minutes. My oven's on the fritz, starting out too cold even after preheating, then getting wildly too hot, which left the sweet potatoes a little burned here and there, but no matter. They were still good!
Way #2 to love your sweet potatoes: Roasted. Peel and cut sweet potato into ¾-inch cubes, coat lightly with cooking spray, sprinkle with seasoned salt or cinnamon, and roast at 400F for 30 min or until tender. Flip 1-2 times during cooking.
To round out lunch, I had my favorite quick "fake-baked" beans: a half cup of Great Northern beans tossed with 1 Tbsp of barbecue sauce.
The twist? Instead of eating everything neatly as you see here, I tossed the barbecued beans on top of the salad just for kicks. And WHOA. So good. The savory tahini dressing paired with the smoky-sweet of the barbecue sauce was nothing short of alchemy.
I also had a couple of slices of honeydew and a cup of my all-time favorite hot chocolate. I didn't take a separate picture of either, but you can check out the 42-calorie almond milk hot chocolate here, in case you missed it the first time. 😉
Snacks: Carrot sticks, apple slices, and PB2
Veggies consumed:
2 handfuls celery sticks (5 oz)
How fresh and delicious is this snack plate? If only I made it for myself every day… Of course, it was only snack #1. I also stole my quinoa from dinner and had it as a second snack with a tablespoon of raisins, because between my typical 2-mile walk and a full morning of food photography, I was on my feet much of the day—and hungrier than usual.
Dinner: Sweet potato and peanut stew with spinach and apple salad
Veggies consumed:
2 handfuls baby spinach (2 oz)
1¼ servings of peanut-sweet potato stew (10 oz of veggies including tomatoes, onions, cabbage, okra, and—of course—sweet potatoes. Excludes tomato juice.)
This stew picture may seem vaguely familiar to you if you read my last post, low-fat peanut and sweet potato stew. That's because I took the bowl of stew I photographed in that post and froze it, toppings and all, to eat today. (Side note: The stew is great for investment cooking; it freezes beautifully.) And while food photography can be fun, I didn't feel like doing a separate round of photographs of the exact same food. I also had another half cup of Great Northern beans, not pictured.
Way #3 to love your sweet potatoes: Simmered in soup. Peel and cut sweet potato into ¾-inch cubes and add to any soup recipe. Simmer 25-30 min, or until tender.
As mentioned, I actually had the quinoa as a second snack instead of with dinner, because I felt like it. (Man I love being an adult.)
At dinner, I had another one of my go-to salads: spinach and apple, this time with red onion and a teaspoon of sunflower seeds. (I don't eat many nuts and seeds, so I'm trying to mix them up for maximum nutrition.) As for breakfast, I drizzled this salad with fig vincotto vinegar too, because I love that stuff.
For dessert, I had a cup of hot carob almond milk. The perfect sweet finish to a tasty 2-pound day!
The final tally
So, did I make it? Yep! I ate a little over 2 pounds of veggies, including sweet potatoes at every meal.
Also—this is one of my favorite parts of my 2-pound days—just look at the amazing nutrition facts:
Nutrition facts
Let's hear it for vegetables! I mean, where else can you get numbers like this without eating way too many calories? It makes my future-RD-heart sing. As always, there was plenty of plant-based protein (about 9 grams over my RDA), along with lots of fiber, vitamin A, vitamin C, calcium, and iron. All without a multivitamin or protein powder in sight.
Of course, if you're not used to eating lots of vegetables, it's best to increase intake gradually to keep your insides happy. And if you have a health condition, it's good to check with your doctor or dietitian before making big dietary changes.
That said, just working in just one extra serving of veggies a day is good for most people. So if 2 pounds of vegetables isn't your thing, know that every little bit helps.
Hope this has given you ideas for working more veggies—especially cancer-fighting sweet potatoes—into your day!
Shared on #WIAW via Sprint2theTable
Click here for references
Aune D, Chan DS, Vieira AR, et al. Dietary compared with blood concentrations of carotenoids and breast cancer risk: a systematic review and meta-analysis of prospective studies. Am J Clin Nutr. 2012 Aug;96(2):356-73. doi: 10.3945/ajcn.112.034165. Epub 2012 Jul 3.
Your turn:
What's your favorite way to enjoy sweet potatoes?