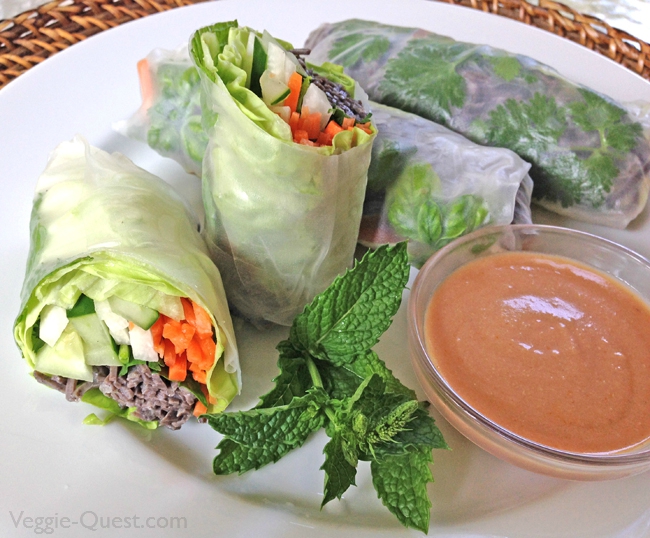 I first discovered the charms of summer rolls when my mom and I ordered them as an appetizer at a pho restaurant last summer. I was so bowled over by their scrumptiousness—Fresh mint! Crisp veggies! Peanut dipping sauce!—that I simply had to create my own version for Veggie Quest.
Salads in disguise, these vegetarian summer rolls are a blast to make and will trick even the pickiest kid (or adult) into eating their greens. Paired with a sweet-savory, garlicky cashew dipping sauce, these rolls have a tendency to disappear as fast as they're made. One less plate to wash!
How-to: Vegetarian summer rolls and cashew dipping sauce
You can find the rice wrappers for these rolls, often called spring roll wrappers, in the international aisle of most grocery stores or at Asian specialty markets. The cashew dipping sauce recipe is loosely adapted from the spicy peanut sauce recipe at Epicurious.com.
Total prep time (dipping sauce AND rolls): 45 minutes
Serves: 2-4, depending on whether you're serving as a side dish or entrée (makes about 10 rolls)
Cashew Dipping Sauce
Ingredients
¾ c water, plus more as needed to thin
3 cloves garlic, pressed or minced
1 Tbsp ketchup
1 Tbsp agave nectar
1 Tbsp rice vinegar or white vinegar
1 Tbsp lite gluten-free tamari, soy sauce, or coconut aminos
3 Tbsp cashew butter (or peanut butter)
pinch red pepper flakes (optional)

Directions
Bring water to a boil in a small saucepan.
Add garlic, reduce heat to medium, and cook for 30 seconds.
Add all remaining ingredients, turn heat to high, and bring to a full boil, whisking continuously.
Reduce heat to medium-low and simmer, whisking, until sauce thickens (about 30 seconds). Add more water if needed to get to your preferred consistency. Cool and serve.
Summer Rolls
Ingredients
10 ten-inch rice paper wrappers
1 head green leaf or romaine lettuce, leaves washed and thick center stems removed
3 carrots, peeled and grated
Fresh mint, basil, and/or cilantro
Additional fillings (as desired): Cucumber sticks, jicama sticks, avocado slices, noodles (I like black bean noodles)—whatever sounds yummy to you!
Directions
1. Fill a glass baking dish or pie plate half full of water, and lay out all other ingredients.
2. Dip a dry wrapper in water—do not leave it soaking—and place on a large plate or cutting board. (The wrapper will soften as you work). Make sure you get the whole wrapper wet.
3. Place the lettuce, carrot, fresh mint, and any other fillings (cucumber, avocado) on the lower half of the wrapper.
4. Holding the fillings in place, fold the bottom of the wrapper over once until it touches, and sticks to, itself.
5. Add any herbs or fillings you want to show through the wrapper above the rolled portion.
6. Fold in the sides of the wrapper, like you're making a burrito, and roll the rest of the way.
Voila! A summer roll.
 
Dip, devour, repeat. 🙂