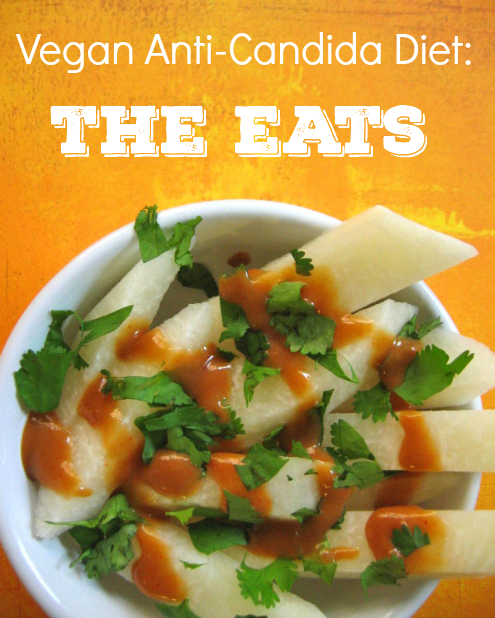 As discussed in Part 2, surprisingly little research has been done on diet and Candida overgrowth. Given the number of women (and men) suffering from yeast infections (whether skin, intestinal, or farther south) I'm appalled that more research hasn't been done.
What's more, the few clinical trials that have been done (four that I could find) all had major limitations. While there's not enough data to draw a conclusion, though, taken together they suggest that a low-sugar, yeast-free, and possibly lower-carb diet might be helpful, especially when combined with other treatments like antifungals. However, the positive effects of these diets could be due to people simply eating healthier. (These types of diets mostly eliminate processed food.)
Moreover, as I mentioned in my last post, low-carb diets are linked to an increased risk of death from all causes—so says a study of 272,216 people.1 (Though most of the protein in the diets studied probably came from animals, which tends to be riskier.) So, I'm hesitant to try a low-carb diet, even temporarily, without more data on effectiveness.
So, what's an itchy plant-based gal like me to do? Can a vegan (or even near-vegan) diet still support recovery from Candida overgrowth?
Note that I said support recovery, because there's a lot more to treating yeast infections than diet, like medication, probiotics, and allergy treatment.2 So if you think you're suffering from a yeast infection or other Candida-related condition, please get tested and treated by a professional. And as always, contact your healthcare provider before making diet or lifestyle changes!
Vegan Anti-Candida Diet: REALITY
Given the science, I think a vegan diet is fully compatible with eliminating Candida overgrowth for many people. Notice I didn't say all, because everybody is different, and I don't presume to know exactly what will work for you.
Regardless, whether you're vegan or not, I think a great "starter" Candida diet would be to eliminate refined carbs (added sugar, white flour, sweets) and yeast-containing foods (see a list here). Those steps will improve almost any diet by cutting out pretty much all junk food! (The exception is mushrooms, which are healthy for most people. Only you can determine if they'll be okay for you.)
A great "starter" anti-Candida diet would be to eliminate refined carbs and yeast-containing foods."
If, despite the lack of data, you want to go further, you're in luck. I've rounded up five vegan (or vegan-friendly) anti-Candida diet resources that rely heavily on whole foods.
Please note, though, that I'm looking solely at the diet piece here, and I don't have the expertise to "endorse" any of them. All of these plans also include lifestyle and/or treatment components, not all of which are supported by science. (Some may even be risky, like colon cleansing3, which is found in the lifestyle portions of both Body Ecology and Whole Approach programs). Moreover, you may have a health condition or risk factors that make a diet higher in protein (even plant-based protein), fat, or other specific nutrients inadvisable. So please, if you're interested in one of the following anti-Candida diets, take the plan to your healthcare provider to see if it's appropriate for you.
Vegan anti-Candida resources
I love Ricki Heller. Not only is she a successful vegan blogger and really nice person (I reached out to her with some blogging questions awhile back and she was super helpful), but her book is 100% plant-based, informative, and easy to read. She's done a lot of research on Candida, having suffered from chronic yeast overgrowth herself. The first stage of her plan includes almost every whole plant food imaginable except sweet fruits, some grains, potatoes, mushrooms, and foods contaminated with mold.
What's more, I've made some of her recipes in the past, and they were delicious! I also like that she emphasizes working with your healthcare provider every step of the way. My only concern is that she green-lights medicinal mushrooms, miso, and apple cider vinegar, all of which could pose problems for those allergic or sensitive to yeast (though she mentions that people need to be aware of their food sensitivities). Otherwise, her book is fantastic.
This free resource describes a lower-carb diet intended for short-term use (2-4 weeks) with a healthcare provider. It provides plenty of plant-based alternatives to animal proteins. That said, most involve soy, e.g. tofu and TVP. If you're soy-sensitive, you might want to skip this one. Created by the Functional Medicine Research Center, the document was posted, with permission, by Providence Montana, a major hospital/health system in Montana. So I feel fairly confident in the material.
Diet is step 8 out of 10 in Dr. Crandall's comprehensive treatment packet. Despite the fact that Dr. Crandall says a vegan diet is opposed to a low-carb anti-Candida diet, she actually promotes a low-sugar, yeast-free diet that's only modestly high in protein and fat, and seems vegan-compatible. She encourages a serving of fruit daily, along with a serving of starchy food at each meal, such as legumes, rice, seeds, nuts, whole grains, and winter squash. Again, if you tolerate concentrated soy protein (or perhaps even protein powders, which I don't normally think are great) this plan could work for you.
With a "track" designed specifically for vegans, the Body Ecology food plan is packed with plant-based nutrients and would probably jump-start weight loss: each meal comprises 80% non-starchy and sea vegetables + 20% starchy vegetables, grain-like seeds, and other vegan protein/fat sources, along with cultured vegetables. However, the diet is restrictive, relies heavily on the Body Ecology line of supplements, and also promotes apple cider vinegar, which could cause issues if you're yeast-sensitive. Also, some of the information in the book isn't science-based, such as the focus on "expanding" and "contracting" foods and the blood-type diet. Regardless, the food plan is worth looking into. (Indeed, it's recommended by Kris Carr of Crazy Sexy Cancer fame.) Beware some of the lifestyle recommendations, however, such as colon cleansing.
Credit goes to Veggie Quest reader Mae Beigh for finding this one. In response to my plea for help in Part 1, even though she isn't vegan herself, she spent nearly 30 hours seeking out a useful, vegan-friendly Candida resource. (Mae, if you're ever in the DC area, I'm treating you to dinner!) While this whole-food, low-carb diet plan doesn't specifically offer a vegan "track," I splurged on their $1.99 allowed food list, and it looks like someone could follow their food plan and stick to a vegan diet without much trouble. Sprouted beans, lentils, nuts, and seeds (with a few exceptions) are all included even in the first phase of the plan, as are sprouted teff, amaranth, and quinoa. Beware, though, that part of the lifestyle program includes Whole Approach supplements and colon cleanses that concern me. However, the diet itself is plant-friendly.
The Yeast-Free-Lee Plan
Like each of you, I have my own specific nutrition needs. I typically keep my fat intake low (no added oils, small amounts of nuts/seeds/avocado) to reduce breast pain, per Dr. Neal Barnard's book, Foods that Fight Pain. I also keep my (plant-based) protein intake right around the recommended dietary allowance (RDA) to reduce cancer risk per Dr. T. Colin Campbell's China Study (which actually discusses hundreds of studies, not just one) and Dr. Joel Fuhrman's Super Immunity.
To add to the sport, I think I'm becoming sensitive to legumes. Given that I have lab-confirmed leaky gut, which can cause food sensitivities, it's not really too surprising. (Although it could just be that my gut's not tolerating the raffinose in beans right now, which makes beans the "musical fruit.") I have other food sensitivities too (bananas, soy, gluten, chickpeas, and more), so I have to work around those also. Finally, I have a tendency to rebel against strict diets, in the form of bingeing on junk foods that undermine my health. (Nobody wants to eat a joy-free diet!) So I'm aiming for balance, trying to eat a healthy plant-based diet (or as close as I can get) in keeping with the data we do have on Candida—all while supporting my overall health and happiness.
What I've come up with for myself is a higher-fat (more breast pain, oh well), moderate-protein, moderate-carb, plant-based Anti-Candida diet, for short-term use until I've got my overgrowth under control. Want to see my plan—from diet to medical treatments to lifestyle?
Diet: My 4-step plan


Step 1: Hara hachi bu
Say what? This ancient Confucian teaching says to stop eating when you're 80% full. It's followed by healthy centenarians living in Okinawa (as mentioned in The Blue Zones Solution) and is mentioned in The Body Ecology Diet as well. I know it seems strange, but this teaching is proving central to my recovery. Because nothing—and I mean nothing—triggers my symptoms, both intestinal and, um, elsewhere, like overeating. I don't exactly know why this is, but for once, I don't care. Bonus: By not overeating, I'll look better in a swimsuit when we go on vacay. 😉
Step 2. Love these
I'm starting with what I can eat, because I feel like many anti-Candida diets are all about deprivation. Well, excuse me, but @#$& that. There are lots of goodies to delight my palate, and I'm going to use every last one of them to come up with some fabulous new recipes:
Non-starchy vegetables and sea vegetables (thank goodness for Veggie Quest!) : We're talking zucchini-basil soup, herbed green beans, "fried" green tomatoes and more. Yum!
Fruit: 1 serving of sweeter fruit/day, plus lemons, limes, and avocado
All nuts and seeds except pistachios and peanuts, which are commonly contaminated with mold. This should provide a modest amount of whole-food, plant-based fats. Since I'll be increasing my omega-6 intake, I'll also take a vegan omega-3 DHA/EPA supplement.
Starchy veggies and gluten-free grains (1 serving per meal on average)
Plant-based proteins: Since I'm sensitive to soy and not tolerating legumes right now, I may temporarily lean on single-source, plant-based protein powders to make sure I reach my protein goals, although nuts, seeds, and greens will all boost my protein quotient! That said, I will consider temporarily rotating in pastured egg whites if I can't meet my needs otherwise.
Fresh herbs and healthy spices: Frilly dill, pungent basil, and more.
Stevia-sweetened desserts: chia pudding, pumpkin pie, "nice" cream, and some outside-the-box veggie desserts that I've been tinkering with…
Sample dinner: Summer chopped salad with lemon-tahini dressing, roasted sweet potato wedges, and stevia-sweetened vanilla-chia pudding (with a spoonful of protein powder if needed). Yum!
Step 3: Ditch these
Added sugar, all flour (even whole-grain flour, since it's higher GI than intact grain), and refined grains (like white rice)
Yeast and mold in all its forms: Nutritional yeast, yeast extract, mushrooms, miso, vinegar (except distilled, because it's all that's left after distillation is acetic acid), etc. Note apple cider vinegar is also out, because the first step in its manufacture is yeast fermentation, so it contains yeast antigens. Yeast/mold avoidance is especially important right now since I likely suffer from yeast/mold allergies.
Gluten grains: And not just because gluten-free is trendy! A portion of the yeast cell wall resembles a portion of the gluten molecule. So if you're sensitive to Candida, you could be sensitive to gluten as well. (Not awesome for your intestines, needless to say.) Worse, a growing body of research suggests that intestinal Candida could trigger the onset of celiac disease.4,5 (Yikes!)
Step 4: Rotate
Since a leaky gut exposes the immune system to bits of undigested food it wouldn't normally see, food sensitivities can develop. So per Dr. Crandall and others, I'm going to make sure I vary my foods, perhaps even rotating them on a 4-day schedule.6 Even if I can't stick to that completely, just shooting for variety will help me get all vitamins and minerals my body needs to heal (though I'll be taking a B-12-containing multivitamin to be sure).
Medical Treatment
Normally, I'd rather not take any medication! However, as Dr. Crandall notes, diet alone is rarely sufficient for treating Candida overgrwoth. With medical supervision, I'm also currently using (or pursuing):
Prescription antifungals and antihistamines
Probiotics
Candida/environmental/food allergy testing and treatment
Pelvic floor physical therapy
Lifestyle
While I'm a huge proponent of nutrition for health, I think sprucing up my lifestyle will be every bit as important to healing as diet, especially since I have a tendency to stress about things, and I'm prone insomnia. (Not so great for the bod!) Here's what I'm doing to support my health:
Getting more and better sleep (I've found Say Goodnight to Insomnia to be really helpful when I stick with it.)
Meditating every morning
Walking or swimming daily
Learning to better manage stress and anxiety
Avoiding irritants and tight clothes
Staying connected with friends and loved ones
Having a good laugh as often as possible. If you have any funny movie/book/show recommendations, please leave a comment! 😀
Between medication, lifestyle changes, and a delicious, plant-based anti-Candida diet, I think I've got a good shot at turning the gremlins of itch back into harmless little Gizmos. I'll keep you posted on how it goes! In the meantime, please share your experiences, advice, and/or feedback in the comments. I can't wait to hear from you!
References
1. Noto H, Goto A, Tsujimoto T, Noda M. Low-carbohydrate diets and all-cause mortality: a systematic review and meta-analysis of observational studies. PLoS One. 2013;8(1):e55030. doi: 10.1371/journal.pone.0055030. Epub 2013 Jan 25.
2. Crandall M. Candida Information Packet. 2002, updated 2012.
3. Mishori R, Otubu A, Jones AA. The dangers of colon cleansing. J Fam Pract. 2011 Aug;60(8):454-7.
4. Nieuwenhuizen WF, Pieters RH, Knippels LM, Jansen MC, Koppelman SJ. Is Candida albicans a trigger in the onset of coeliac disease? Lancet. 2003 Jun 21;361(9375):2152-4.
5. Corouge M et al. Humoral immunity links Candida albicans infection and celiac disease. PLoS One. 2015 Mar 20;10(3):e0121776. doi: 10.1371/journal.pone.0121776. eCollection 2015.
6. Crook W. The yeast connection: a medical breakthrough. New York: Vintage Books. 1986.