We do a lot of taco nights at my house, but serving a green salad with tacos can become a little ho-hum. So this week, on my jicama kick, I decided to shake things up a bit! Enter the tasty (and healthy) Mexican Jicama and Orange Salad.

This combination of crunchy jicama, sweet oranges, red bell peppers, and savory scallions makes a delightfully refreshing accompaniment to spicy Mexican fare. Of course, the adventurous among you are free to kick this salad up with a sprinkle of smoky-hot ancho or chipotle chile powder.


In fact, I almost hate to mention that this spunky oil-free salad is a nutritional powerhouse. When it comes to your daily value, this salad offers up:
289% of your vitamin C

36% of your vitamin A

25% of your vitamin K

15% of your vitamin B6
What's more, it comes together quickly, assuming you know the fast and easy way to peel a jicama. (Works for oranges, too!)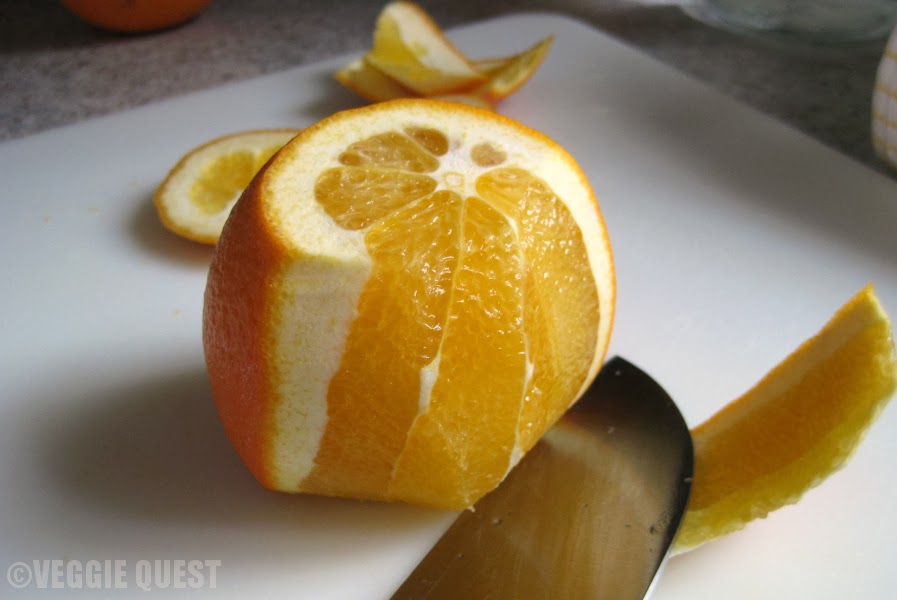 The quick way to peel an orange

I even took this salad to an omnivorous friend who was going through a tough time (along with a vegan enchilada casserole), and she loved it. That said, I did add a tablespoon of olive oil to the dressing for her, since she wasn't used to oil-free fare. (Know your audience, right?) 😉
Luckily, this salad works nicely on Kris Carr's Adventure Cleanse, too. My mom and I are now on day 11 and going strong. I'm over my cold, I'm up to meditating 10 minutes a day, I'm working out, and I've only slipped on caffeine once! It was just green tea, but now that I'm off the sauce, I have to say, I got a serious jolt out of it. Oh, and I'm pretty much consuming my weight in vegetables. In fact, I'm pretty sure I've blown two pounds of vegetables a day out of the water. Side benefit: I've never gotten over a cold faster!
_____
Mexican Jicama and Orange Salad Recipe (Low Fat, Vegan)
Adapted from the Food Network Magazine's Jicama-Orange Salad. This salad can be made a day ahead of time, so long as the cilantro is added just before serving!



Prep time: 15 min Serves: 4

Ingredients
1 medium jicama, peeled and chopped
1 red bell pepper, seeded and chopped
4 navel oranges, peeled and chopped (or segmented, if you're feeling ambitious)
2 green onions, thinly sliced (white and light green parts only)
2 Tbsp chopped fresh cilantro (packed)
Juice of 1 lime (about 1 Tbsp)
4 drops liquid stevia (or a dash of agave nectar)
Freshly ground black pepper (optional)
Sprinkle of ancho or chipotle chile powder (optional)

Directions
Place jicama, bell pepper, orange chunks, sliced green onions, and cilantro in a large bowl.

In a small bowl, whisk together lime juice, liquid stevia (or agave), and a couple of good grinds of black pepper, if using. Sprinkle dressing over salad and toss gently to coat.

Serve as is, or top with a dash of ancho or chipotle chile powder.
Click here for printer friendly recipe.
_____
Nutrition Info (¼ of recipe): 149 calories, 4 calories from fat, 1g total fat, 0g saturated fat, 0mg cholesterol, 11mg sodium, 602mg potassium, 36g carbohydrates, 12g fiber, 17g sugar, 3g protein
Shared on Raw Foods Thursdays and Healthy Vegan Fridays.
_____
Want to actually enjoy your vegetables? Subscribe to Veggie Quest and never miss a recipe! (WFPB, Vegan, Gluten-Free, Eat-to-Live friendly.)