Rich. Gooey. Dark. Chocolate.
(Got your attention, did I?)
I don't know about you, but lately I've been needing a little indulgence. So I donned my chef jacket and came up with these whole-food vegan truffles, which mingle the decadence of chocolate with the virtue of veggies for a treat you can actually feel good about eating. They're a snap to make, too—you need only 4 ingredients and 30 minutes.
Which is really good if you've had a really bad day.
Better yet, unlike most chocolate goodies I've encountered (yeah, brownies and cupcakes, I'm talking to you), these truffles actually satisfy my chocolate cravings instead of stoking them. Which seems somehow miraculous to me, but there you have it.

What's more, these tasty little morsels can help you use up some of the zucchini that even now is silently plotting to overtake your garden. (Heh.) Yet that same zucchini is completely undetectable in the final product, transmuted by some sort of mysterious alchemy into smooth, chocolatey goodness.
So if you're ready for a healthier hit of chocolate that's sinfully delicious, go ahead and treat yourself. You deserve it!
_____
Chocolate Zucchini Truffles Recipe
Dark and delicious, these truffles come together quickly. Better yet, they're fun for the whole family to make—even little ones can help, whether rolling each truffle into a ball or unleashing their inner Picasso to sculpt tasty truffle shapes. Truffles can be made up to 2 days in advance; see note at the end of the recipe.
Prep time: 30 minutes                    Serves: 8 (Makes 16 1¼-inch or 24 1-inch truffles)
Ingredients
½ small zucchini, cut into chunks (2 oz)
15 Medjool dates, pitted and chopped into quarters (a little more than 1 c packed)
1 c raw walnuts
¼ c + 2 tsp high-quality cocoa powder* (I like Ghirardelli, but use certified gluten-free if needed)
Additional cocoa powder or other toppings to coat truffles
Directions
Fit a food processor with a standard S-blade.
Process walnuts for 30 seconds–1 minute, or until the ground walnuts look like sand (but not so long that you make walnut butter). Remove walnuts from the processor and set aside.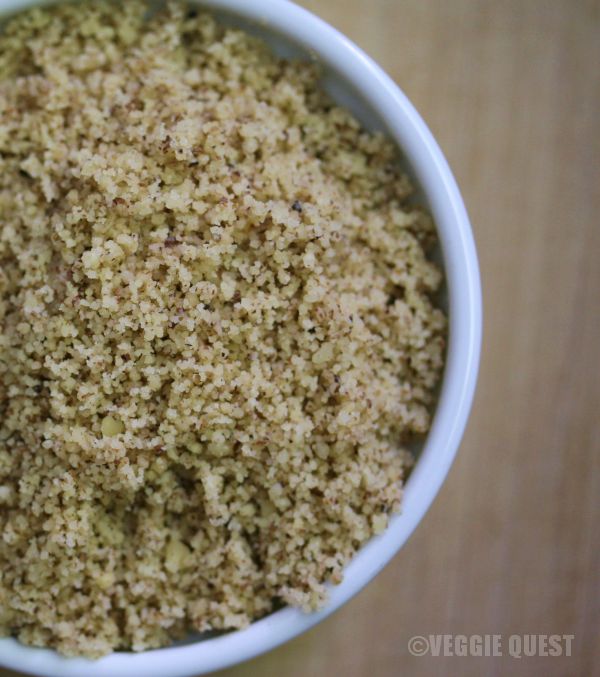 Your walnuts should look like this.
Place zucchini in processor and process for 20–30 seconds, pulsing and scraping the sides as you go, until pulverized to a coarse "dust." (Like cauliflower rice, but finer.)
Remove from food processor and squeeze the water out of the zucchini using paper towels or a clean flour sack towel. Don't skimp; you want to get as much water out as possible.
Process the dates, cocoa powder, and pulverized walnuts together for 15–30 seconds, until the mixture looks like chunky dirt. (I know, yum, right? But that's exactly how it'll look!)
Add the zucchini and process another 10–15 seconds until evenly distributed. If the truffle "dough" starts to collect into a large ball and whump around your food processor, you're done!
Form the dough into 1-inch balls for medium truffles or 1¼-inch balls for large truffles. The dough will be soft, but should be able to roll easily. If you find it's too sticky to work with, wrap it in plastic and place it in the fridge for an hour or so to firm up.
Roll each truffle in a bowl filled with your topping of choice—I like cocoa powder, or chopped pistachios to echo the green of the zucchini. However, you could also use toasted coconut, chopped peanuts, or any other topping that strikes your fancy.
Serve and enjoy, refrigerating any leftover truffles.
Note: Truffles can be made up to 2 days in advance and refrigerated without coating. Then, a few minutes before serving, remove them from the fridge, allow to warm slightly, and roll in toppings. Yum!
*To keep it raw, swap cacao powder for the cocoa. (And let me know how it turns out!)
Click here for printer-friendly recipe.
_____
Nutrition Info (⅛ of recipe: 3 medium truffles or 2 large truffles, excluding coatings): 223 calories, 79 calories from fat, 9g total fat, 1g saturated fat, 0mg cholesterol, 2mg sodium, 439mg potassium, 38g carbohydrates, 5g fiber, 30g sugar, 4g protein 
Shared on Slightly Indulgent Tuesdays, Allergy-Free Wednesdays, Gluten-Free Wednesdays, Whole Foods Wednesdays, Raw Foods Thursdays, Gluten-Free Fridays, Healthy Vegan Fridays, Unprocessed Fridays, and Wellness Weekends, some of the hippest blog hops around! 
If you still have more zucchini to use up, how about making some Crazy Easy Zucchini Basil Soup? Low fat and fabulous.
Want to actually enjoy your vegetables? Subscribe to Veggie Quest and never miss a recipe! (WFPB, Vegan, Gluten-Free, Eat-to-Live friendly.)